Your Guide To Buying a Leather Journal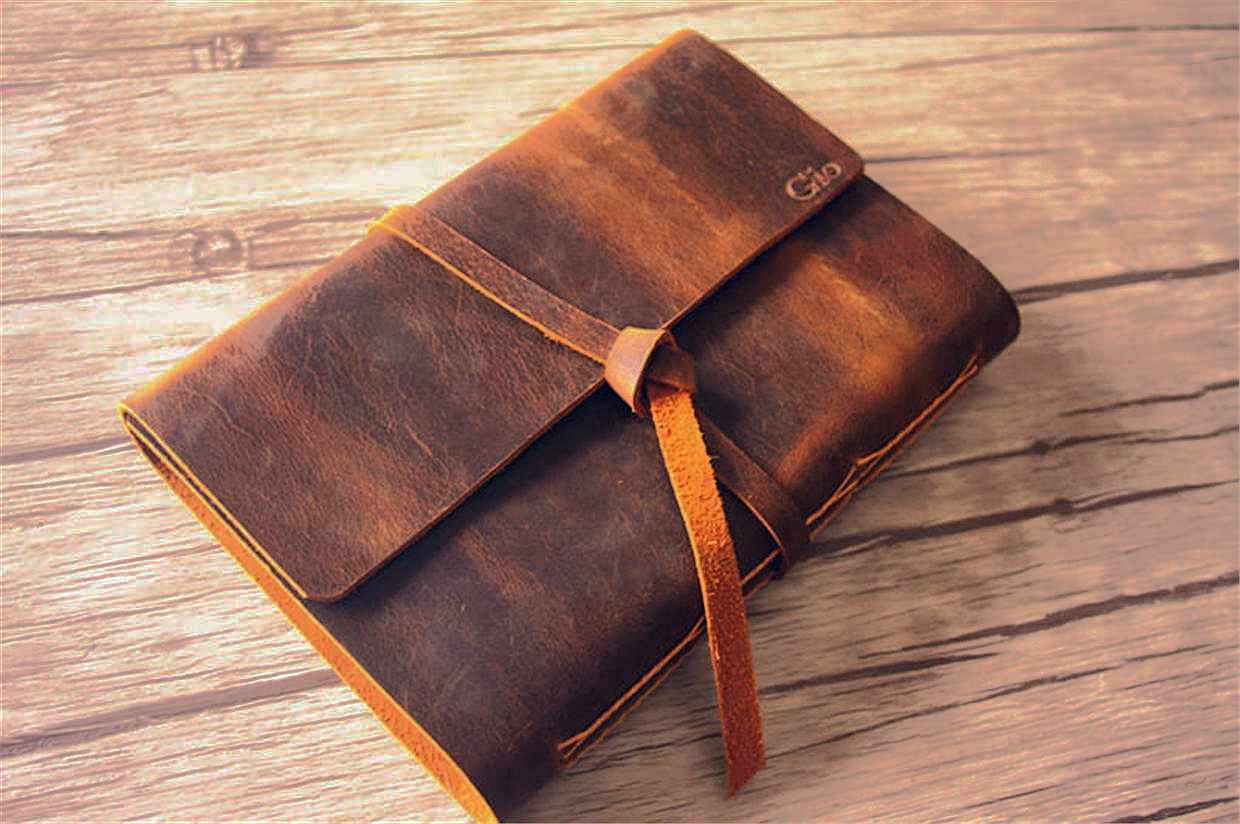 Without being able to see it, smell it, and touch it, how do you pick the right leather journal?
You could not find the best leather journal in your local shops-after all, they are extremely limited by shelf space, their manufacturers, and a whole range of other factors.
Why not use the commuting time instead of traveling from shop to shop to look at all the online choices you have available?
You have discerning tastes, and there are several factors that need to be produced for your leather journal. We want to take some of the suspense out of the equation for those of you out there who haven't bought a leather journal online before.
You really have come to the right spot. We will cover all the variables that go into the online purchasing of a leather book, including paper, leather, guarantees, and more.

Buying From A Retailer


Online retailers such as Amazon and Barnes and Noble have much broader options than a single journal maker. Leather journals are also held by Office Max, Sam's Club, and Costco. Look for particular reviews of the leather journals you're interested in, as they will give you more insight into what you're going to order.

Buying Directly


You already have a general understanding of what you want if you have searched at the retail shops or online outlets. Going to the manufacturer directly gives you the ability to look at more journals of the particular style you love. There may be an extra expense, but when it comes to the reliability and consistency of the products, you are also getting an array of the best that the manufacturer has to sell.

Types Of Leather


There are different qualities of leather, just as there are various qualities of animal hide. Each of them can be used for various purposes, and the distinctions are extremely important for a discerning journalist.


- Full-Grain
Full-grain leather is the highest quality leather and is made of non-sanded or buffed hides to minimize imperfections on the skin. Full-grain leathers tend to enjoy greater durability and longer life than other leather types, and over time and use, they develop a beautiful patina. In leather products, it is this patina which is most desirable.


- Ultimate Grain
Most widely used for furniture and other items that need a high degree of durability, this form of leather is used. Depending on the use, top grain leather is broken into different thicknesses. These thicknesses are measured in millimeters ( mm) or ounces. An ounce is 0.4 mm equal. Top grain leather appears to age well, to have high longevity, and to grow a warm patina over time, much like full-grain leather.


- Grain Corrected
It is known to be right grain leather when a hide has an artificial grain added to its surface. Corrected grain leathers are typical of poorer quality and sanded or buffed off for any imperfections. The dying process will mask the embossing of an artificial or corrected grain.


- Split
This is the most fibrous part of a leather hide, which is the part left over after the top grain is removed from it. It can be further broken down into different thicknesses. It is possible to further split very thick hides into middle splits and split flesh.


Check For Reviews Of Previous Customers


How do you decide if the article you've just read is impartial by looking at the reviews for leather journals? In return for a review that can be published on their website, or through other online retailers including Amazon, many manufacturers may offer free items.
Other suppliers of products that are less scrupulous will not only pay for the product, but also reward a reviewer who recommends the product.


Looking for specifics is one way to spot a positive review or even a poor one that is real.


The more information and descriptions included in a summary, the higher the probability that it is impartial. If there are unique questions for you, ask!


Most sites would allow you to contact the reviewer via the website so that you can answer your questions.


Do Not Forget The Warranty


The majority of suppliers and sites selling leather journals will provide a guarantee of at least 30 days and the right to return products. It is presumed that the item is unused when making returns and has not been harmed.
It should be brought to the attention of customer service as soon as possible if anything is badly handled and simply falls apart during that time.


Such return exceptions will likely include custom-made pieces or those that have been monogrammed.


Be sure to review the terms and conditions on the website for product warranties listed on their website or call their customer service number before placing your order.


Tracking And Shipping


You made the leather journal of your desire and now you just can't wait to get it! It can be costly to ship, so it pays to check the various types of shipping options available. Printed materials or books may be sent via press mail in the United States. This is the cheapest route to take, but it can take you a number of weeks to get your object. In transit, there is also an increased risk of it being lost or damaged.
When the total is more than a certain number, some retailers will give free shipping for orders.


At an additional fee, some can provide expedited and tracked delivery. Take into account how soon you want your order shipped to you.


Priority or Express Mail will get your journal to you much quicker, but usually, all of these services are more costly.


In order to monitor the progress of your shipment and to know exactly when you should expect it, all Priority and Express mail services have monitored.


There could be some drawbacks if you need to make your journal go to a military mail drop or is being sent globally. In these situations, it is better to review the policy for delivery to see if they provide this form of service. There may also be taxes or tariffs levied while transporting across borders. Such charges are dependent on the price or the type of object. For more details, you can contact your nearest post office.
Shop our collection of:


Leather Portfolios
| 
Custom Leather Journals
 |
Custom Leather Binders
 |
Refillable Leather Planner
 | 
Custom Leather Sketchbooks


Related Posts: