How to Choose a Leather Backpack Purse?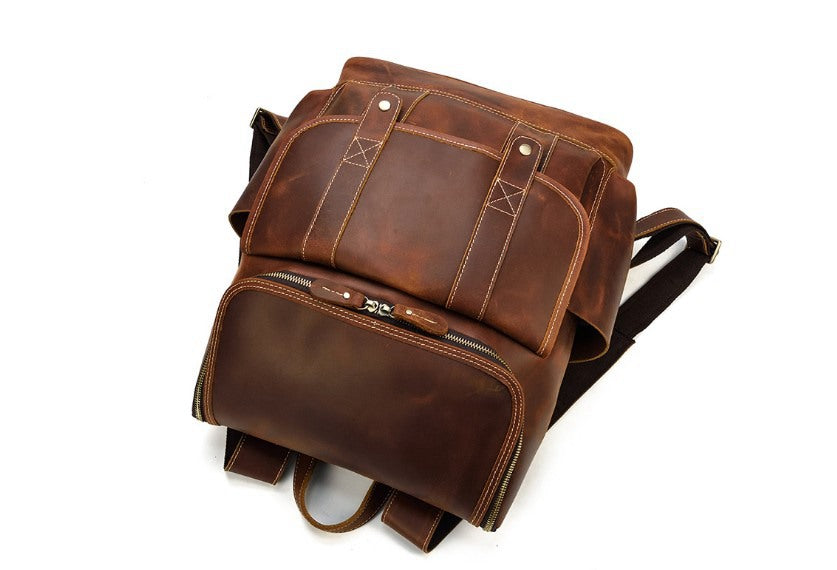 Finding the right leather backpack purse is a confusing journey. With so many options and brands available online, it is difficult to make up your mind which is the best backpack for you. Luckily, there are several factors that should be considered during the selection of the right leather backpack. What factors? Here, you will find the list of all these factors that you need to consider before making a decision on which backpack to purchase.
Before we begin, do you know there are millions of brands small and big manufacturing these leather backpacks? These leather backpacks have come in trend recently. Manufacturers have been finding ways to make these leather backpacks more designer and quirky. This in turn is providing everyone with loads of options to choose from. Unlink the times before when the leather bag used to come in only limited color options, today we have so many color choices to pick from. Certainly, the times have changed and therefore, it is important that you change the process you follow to buy a leather backpack purse.
Coming back to the point, let's talk about some factors that would help you decide on which leather backpack purse to buy.
So, here you go.

Things to consider before selecting the right leather backpack purse


Below we are going to discuss some of the common factors that you need to consider when it comes to buying a leather backpack purse. Starting from functionality to durability, size, and style, we are going to discuss everything here.
1) Functionality - The first thing to consider while looking for a leather backpack purse is to know why you need a bag. Remember, a bag is there for a purpose. The first and foremost factor that you need to consider while shopping for a backpack is to find out whether it has enough storage space or not. Unless or until you need to carry a bag around for just a mere showoff business, this might not concern you. Depending on what purpose you need this bag for say - Travel purposes, carry around while shopping, or just a casual thing, you can choose the leather backpack.
2) Size of leather backpack purse - The second thing to note while looking for a leather backpack is to know which size is perfect for you. Whether you require a small bag to carry small usual stuff or you need to travel carrying all your utility, answering this question will get you to the decision. So, think before you buy a bag.
3) Quality of Leather - Unlike Leather Neo that is renowned for selling high-quality genuine leather products including leather backpack purses, most manufacturers use synthetic material to manufacture bags. These bags might look like leather, but are usually not. Therefore, you must check the material the bag is made of while choosing one.
4) Budget - The next very crucial thing to consider while shopping for a leather backpack purse is the budget you have to spend on a bag. When it comes to the selection of a backpack, there are different products that range from low to luxury budgets. It is vital that you set a budget before you start looking for a bag. This would ease the process of selection for you.
5) Durability - Another very important aspect to think of before buying a leather backpack purse is to know about its durability. Every leather product is not the same. Depending on the quality of leather the bag is made of will tell you the durability of the backpack. So, while you are looking for a backpack, make sure that you check if the bag is made of good quality leather or not. Remember, every fine leather product comes with a guarantee card. This can be a thing that would help you determine whether it is worth investing in that bag or not.
6) Finish - There are several different options like a matte finish, glossy finish, etc when it comes to choosing a leather backpack purse. It is completely a personal choice of an individual. Where some people like matte finished leather bags there, some prefer going for glossy leather. There are several options available in each category in the market. So, pick accordingly.
All these factors together will make sure that you have the right leather backpack purse for you. Being a woman, we understand a bag is very important for you. It does not just help you carry stuff along, but also completes the look. So, be very conscious while choosing the right leather backpack for yourself.

Best Genuine Leather Backpacks you must invest in!


If you are looking for traditional yet quality and modern design leather backpacks, we have a fine list of products ready for you. So, in short, if you are looking for a backpack to invest in, you must check this list of the finest leather backpacks. 

List of fine leather backpacks for both women and men!


1) Buffalo Brown Leather Work Backpack Purse Rucksack
Cost - $162
If you are looking for a quality backpack with a laptop pocket, this product is the best for you. Like every product we have at Leatherneo, this backpack is also made using the finest quality thick leather which is known to last for years. This backpack comes with multiple pockets and has a huge capacity to store enough of your stuff. 


2) Brown Leather Large BackPack Purse For Both Women & Men
Cost - $168
If you are looking for a stylish backpack to carry your stuff around with swag, this beautiful brown high-quality leather backpack is going to sweep you off your feet. With comfortable straps, this backpack has a lot of interesting features to explore. The outer and inner pockets are designed to keep your stuff comfortably in. So, again, we hope you check our Brown leather large backpack purse for men and women before deciding which one is best for you. 
 
3) Unisex Leather Laptop Backpack Purse
Cost - $154
Backpacks are designed for making it easy to carry stuff. Next in the list of best backpacks, is the dark brown leather laptop backpack by Leatherneo. The rustic look of the backpack has made it one of our bestseller products in the market. Since this backpack is made using quality thick long-lasting leather. 


4) A Fancy Looking Brown Leather Backpack Purse Rucksack Bag
Cost - $149
Designed with caution, this fancy brown leather backpack purse Rucksack bag by Leather neo is one of the very popular and designer backpack designs we have at Leatherneo. Perfect for both men and women, this backpack has become very popular in the market. The unique brown colour of this backpack is another reason why people love this bag.


5) Full-grain leather backpack purse Rucksack
Cost - $160
Wondering if you should invest in a leather backpack? Stop wondering and check this beautiful backpack designed from full-grain thick leather by Leatherneo. Like all our products, this brown full-grain leather backpack is perfect for daily and rough and tough use. So, what are you waiting for? Hurry and buy this fancy, elegant and long-lasting leather backpack. 


6) Women's Black Leather Backpack Purse
Cost - $149
Looking for a leather backpack? Our Women's black leather backpack purse is designed to offer comfort in carrying your stuff. This black leather bag has made a special place in our list of products. So, if you are looking to buy a backpack for yourself or someone you love.  


7) Men's Luxury Brown Leather Backpack
Cost - $164
Our quality products have made a special place in the market. This is why if you are looking for a quality, long-lasting, and fine leather backpack, you must check our collection of backpacks. The design of this luxurious men's brown leather backpack has become one of our fast selling products in the market. Because these leather backpacks are designed with full-grain thick leather, it lasts for years and years. 

Conclusion


Above, you will find the list of factors that one should take into consideration while selecting a leather backpack purse to purchase. We hope by now, you must be clear on each of the factors that you must consider before buying a leather backpack purse. Every point mentioned above will take you to the right kind of backpack that you are looking for. We highly recommend you to check our most-loved collection of men's and women's leather backpack purses by LeatherNeo. LeatherNeo is one of the finest brands selling high-quality leather products, including leather backpacks. Besides leather bags for both men and women, they are also known for several different kinds of products like laptop cases, leather journals etc. So, if you are a leather lover like us, you definitely should check this collection of genuine leather products online on their website - leatherneo.com Hurry! There are many offers going on which you can benefit from.
Shop our collection of:


Leather Backpacks
|
Canvas Backpacks
|
Men's Leather Bags
| 
Women's Leather Bags
|
Black Leather Backpacks
 |
Brown Leather Backpacks


Related Posts: