What Is A Messenger Bag? Exploring The Magic Of Urban Style
In the world of urban fashion, one accessory reigns supreme for its impeccable combination of style and practicality - the messenger bag. This remarkable bag has charmed the hearts of many. It established itself as an essential component of wardrobes worldwide.
But what is a messenger bag exactly? What is a messenger bag used for? And how does it differ from other similar bags? In this article, we will talk about all these and more. So, let's dive in.


What Is the Point of a Messenger Bag?


A messenger bag is a practical work accessory and a stylish weekend companion. A leather messenger bag is incredibly fashionable and timeless, and it can last for years if you choose one made of premium materials. These are some of the main benefits of owning a messenger bag:

Versatility
A messenger bag is a versatile bag that can adapt to different occasions. It has a professional look that suits the office. But, it also has a casual charm that works for social outings. It is generally more relaxed and smarter than a briefcase.

Comfort
A messenger bag have a shoulder strap that is ergonomic and can fit comfortably on your shoulder or across your back. It should also be easy to use and wide enough to accommodate a laptop.

Organization
A messenger bag should have ample space, multiple pockets, and compartments to organize your essentials.
You can use them to store pens, keys, phones, tablets, and more. If you need to carry your laptop to work, opt for a larger messenger bag with a quality lining.

Materials
A messenger bag usually made of sturdy and durable materials that can withstand the demands of modern life. Leather is popular because it is elegant, resilient, and ages well.

Elegance
A messenger bag is a fashion statement for the trendy man. You want a messenger bag that combines functionality and aesthetics and has a simple shape.

Clever Design
A messenger bag should have sections that make it easy to access your items when you need them quickly. No more rummaging through your bag, looking for that spare pen that you know is there.

Minimal Contact
A messenger bag rests lightly on your upper thigh and hip when you are on the move. It does not affect how hot you feel. Backpacks, on the other hand, make your back warm and sweaty.

Commuting And Biking
A messenger bag was initially used by bicycle couriers because of its convenience while traveling. If you bike to work or around town, a messenger bag can be handy.
Shop our handmade leather messenger bags and canvas messenger bags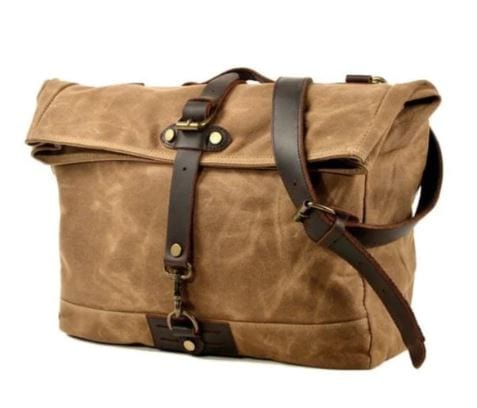 What Is the Difference Between a Messenger Bag and Crossbody Bag?


When choosing the perfect bag for your daily needs, versatility, design, size, comfort, and fashion are all important factors. Two popular options are messenger bags and crossbody bags.
While they may seem similar at first glance, distinct features set them apart. Here is what makes each of these bags unique:


Versatility & Occasions
Both messenger bags and crossbody bags are adaptable. This makes them perfect for many situations. Crossbody bags are excellent for casual and daily usage. This is because it provides a relaxing and practical alternative for going about your daily business, shopping, or touring the city.
They are ideal for transporting necessities without weighing you down due to their small size and hands-free design.
On the other hand, messenger bags offer a roomy design and functional organizational features, making them more versatile. They allow you to transition from a laid-back weekend to a hectic workday seamlessly.
Their versatility allows you to use messenger bags for formal and informal occasions while maintaining a professional impression.

Design & Style
Each bag design caters to different styles. Crossbody purses often have a streamlined form that offers a chic and sleek appearance. They typically have a single strap that you should wear across the body, providing hands-free mobility.
Crossbody bags go well with casual outfits like sundresses or jeans, adding a trendy and modern touch to your look. If you're seeking something more casual, compare them to shoulder bags.
Messenger bags, however, have a boxy design with a flap clasp and a shoulder strap. They represent a more practical and professional aspect, making them suitable for more professional casual outfits.

Size & Capacity
Both crossbody bags and messenger bags come in various sizes and storage capacities to meet diverse demands and tastes.
Crossbody bags are often more petite and designed for the bare minimum of items, such as your wallet, keys, and phone. They can be your daily go-to bag for running errands or exploring the city.
In contrast, messenger bags has large capacity and organizational features. They are good for individuals needing more work, school, or travel space.

Comfort & Fit
Both bags excel in providing comfort and a perfect fit for various situations. Crossbody bags are excellent for casual and everyday use. This is because it offers a cozy and practical choice for going about your daily business, shopping, or simply exploring the city.
Their small size and hands-free design make them ideal for carrying necessities without weighing you down.
Messenger bags offer even more versatility with their roomy design and functional organizational features. They allow you to transition from a laid-back weekend to a hectic workday seamlessly.

Fashion And Personal Style
Regarding fashion and personal style, both crossbody purses and messenger bags have their unique appeal. With their small shape and materials that exude a contemporary and stylish attitude, crossbody purses are often associated with current and fashion-forward looks.
They come in various vibrant colors and hand-woven patterns, making them a perfect match for a range of outfits and events.
On the other hand, messenger bags are praised for their urbane and practical design. Made with sturdy materials like leather, they have a rugged appeal reflecting usefulness and adaptability.

Shop our cute messenger bags and laptop messenger bags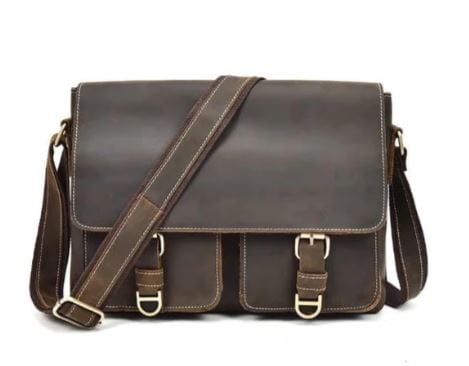 What's The Difference Between a Messenger Bag and a Satchel?


Messenger bags and satchels are popular bags that can hold your belongings and complement your style. However, they also have some differences that you should consider before buying one. Here are some factors to compare when choosing between a messenger bag and a satchel:

Functionality Difference
Regarding functionality, both messenger bags and satchels offer similar features, such as zippers, flaps, and buckles to protect your belongings. However, there are a few key differences that set them apart.
The messenger bag is designed to be more secure, with its pouch resting higher over the body rather than hanging lower. This positioning makes it less vulnerable to theft and provides a sense of added security. Additionally, messenger bags often come with extra pockets for better organization. This makes them ideal for those who need to carry a laptop.
On the other hand, satchels have a narrower and longer vertical design. While they may still have compartments and closures, they can sometimes be a bit more limited in terms of space. This can be a burden if you need to place wider items inside that won't fit vertically.

Image Difference
In terms of appearance, satchels offer a retro vibe with their leathered appearance. They exude a chic but tough look that appeals to students and individuals looking for a stylish accessory.
However, messenger bags have a more horizontal, elegant design that resembles a briefcase. This makes them a great choice for working professionals who want a bag that looks sophisticated and professional.
Although you can wear satchels casually, they may not offer the same level of sleekness and sophistication as a messenger bag.

Wearing Style Differences
Another obvious distinction between messenger bags and satchels is how they are worn. The longer shoulder strap that most satchels have makes it possible to wear the bag over the shoulder or across the torso. Resting on the hip. This adaptable clothing choice combines convenience and comfort.
Conversely, messenger bags come with a relatively short strap that you wear across your torso which is meant to be pressed up against the lower part of your back. With this arrangement, it is simple to reach the pouch by pulling the bag to the side or the front. You can keep your possessions near to your body and visible thanks to its design. This may prevent theft in busy public areas.
Additionally, messenger bags frequently offer additional mobility. They are therefore a well-liked option.

Material Differences
Regarding materials, satchels are commonly made of leather, giving them a classic and durable appeal. But messenger bags come in various fabric options, such as cotton, canvas, nylon, and leather. This versatility allows you to choose a messenger bag that suits your personal style and preferences.
For those who want the best of both worlds, satchels, and messenger bags are available that combine leather and cloth materials. These hybrid options offer the benefits of both materials, providing durability and style.


What Are the Disadvantages of a Messenger Bag?


Messenger bags are popular among many who want a convenient and stylish way to carry their belongings. However, messenger bags also have some disadvantages that you should be aware of before choosing one. Here are some of the possible drawbacks of using a messenger bag:

Poorly Equipped For Sustained Travel
If you frequently travel for extended periods of time, a messenger bag may not be the best option for you.
While smaller messenger bags are great for keeping your travel papers organized, they may not provide enough space for all your belongings. Consider opting for a larger bag or backpack with more storage capacity for longer trips.

Reduced Comfort And Breathability
Messenger bags can be uncomfortable and hot to wear, particularly in warm weather or during physical activities. The strap of the bag can dig into your shoulder or chest, causing discomfort and potential pain.
Additionally, the bag may flap or bounce against your body when walking or biking, leading to further discomfort. Moreover, the bag's position on your back can block airflow, making you sweat more and feel sticky.

Not As Stable As A Backpack
Messenger bags can be less stable than backpacks, especially when not properly secured. Since the weight is concentrated on one shoulder, it may cause the bag to shift or migrate while you move.
If the strap of your bag lacks traction, it can easily slip off your shoulder. You may need to carry it across your body to prevent this, essentially converting it into a crossbody bag. However, this can limit the ease of access to your belongings.

Lack Of Security
While messenger bags are fashionable and convenient, they can be more susceptible to theft and pickpocketing than backpacks. The accessibility of the bag's flap or zipper makes it easier for thieves to open it unnoticed and steal your belongings or tamper with them.
In crowded or unsafe areas, you may need to hold the bag in front of you or take it off, which can be inconvenient and increase the risk of losing your valuables.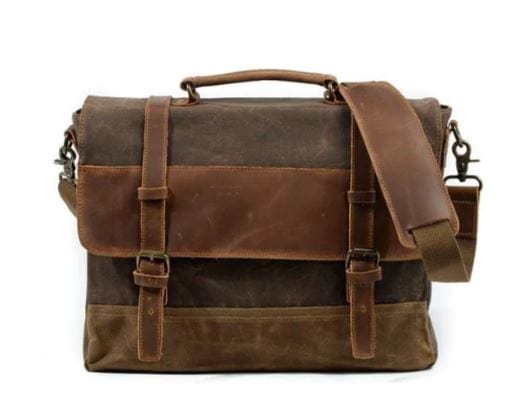 Conclusion


A messenger bag has the ideal blend of urban style and functionality, making it a must-have accessory. Its design, versatility, and space make it the perfect choice for individuals with busy lifestyles.
Despite a few drawbacks, the true charm of a messenger bag lies in its seamless fusion of fashion and practicality. If you want to enhance your urban style, invest in a messenger bag that aligns with your taste and needs. You can start by checking out some of our messenger bag collections.

Key Takeaways


Messenger bags are versatile and comfortable and offer ample space for organization. They're made of durable materials like leather and are designed for easy access to items.


Compared to crossbody bags, messenger bags have a professional look, larger capacity, and rest against the lower back.


Compared to satchels, they are more secure with extra pockets and have a more elegant design.


Messenger bags may be unsuitable for sustained travel due to limited space and can be uncomfortable in warm weather. They are also less stable and more susceptible to theft compared to backpacks.

Shop our collections of:

Men Leather Messenger Bags | Women Leather Messenger Bags | Men Canvas Messenger Bags | Women Canvas Messenger Bags
Related Posts: