What is a Duffle Bag - History, Features and Modern Trends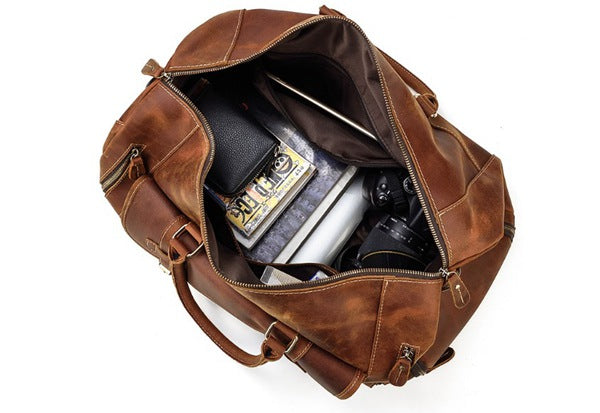 A duffle bag is a rugged cylindrical bag originally designed with tough and thick natural fabrics such as leather or wool. The original design typically features a drawstring closure at the top entry of the bag. Today, while most duffle bags are still cylindrical in shape, they no longer exclusively feature a top entry. Modern designs often include zippers that close off on the side for easy access to your belongings. Whether you're headed to the gym or embarking on a weekend, this trendy day-to-day engagement bag is the top choice.


Where do Duffle Bags come from?


Did you know the beloved duffle bag has existed since the mid-17th century? This iconic bag was named after the town of Duffle near Antwerp in Belgium, originally produced using thick, coarse woolen cloth. The original design was cylindrical with a drawstring closure at the top, but it has evolved. Today, "duffel bag" refers to any large bag made of thick fabric that can easily store and transport bulky objects.
The duffle bag's versatility has made it a popular choice for various applications. The duffel bag is a versatile accessory suited for various applications. Its origins can be traced back to Spanish and Portuguese sailors who fashioned crude bags out of thick, coarse woolen cloth to store their belongings. Today, the duffle bag remains popular for travelers and adventurers looking for a durable and reliable way to carry their essentials.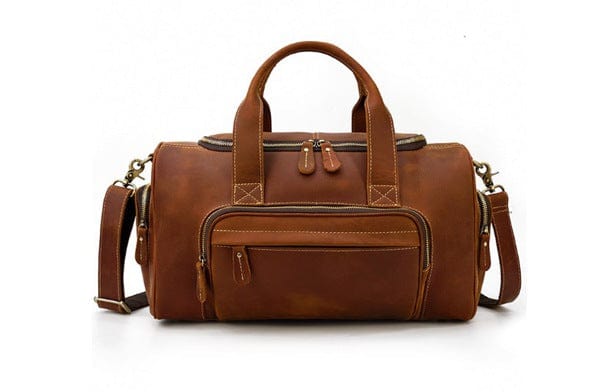 Different Duffle Bag Materials


Duffle bags are often made from top canvas and polyester, the most popular materials for their durability and resistance to wear and tear over time. However, if you're looking for something different, you can also find duffels made from leather, cotton or water-resistant vinyl.  Here's the list of the common materials used for duffel bags.


 Canvas
Duffle bags are the perfect solution for travelers who need a durable, high-quality bag that can withstand even the toughest conditions. Made of canvas material, these bags are designed to last for years and protect your belongings. But with so many options available today, it can be hard to know which duffel bag is right for you. Choose the best canvas duffel bag that suits your needs and budget.


 Cotton
If you're always on the go, a high-quality duffle bag is a significant item in your arsenal. While a wide array of choices are made from synthetic materials, nothing beats the durability and style of a cotton duffel bag. These excellent bags have been around for decades and continue to be popular thanks to their timeless design and exceptional ability to withstand wear and tear.


 

Vinyl
The double-filled heavy canvas bag is made from military-grade cotton canvas material. This duffle bag is built for rough use and will last for years. Our rugged and heavy-duty design ensures superior wear resistance, making it weatherproof, tear proof and able to withstand even the most demanding conditions.


Leather
If you're an adventure seeker or a frequent traveler, choosing the right bag to store your belongings is essential. The market offers a wide variety of leather bags. The Duffel bags made of durable leather stand out from the rest for their sturdiness and longevity. They are perfect for long trips as they can endure harsh weather conditions and heavy loads.


PVC
Meet the ultimate protection for your belongings! The PVC Duffle Bag is high-frequency welded to guarantee that dirt, dust, sand, and water stay out. It's tough and durable molded bottom ensures that even the roughest terrain won't damage your valuables. The organization has never been easier with an internal mesh bag with a zipper and handles on both ends (plus a center handle).


Recycled Plastic
The eco-friendly duffle bags - are the perfect solution for selective travelers who want to reduce their carbon footprint. These bags are a perfect alternative to traditional plastic duffle bags made from sustainable materials. With our eco-friendly duffle bags, you can protect the planet while enjoying all the convenience and functionality of a high-quality travel bag. Say goodbye to wastefulness and hello to sustainability with our eco-friendly duffle bags!


The Best Duffle Bag Size


The perfect duffle bag size is one with a standard size of 17 inches in width, 22 inches in height, and 10 inches in depth. Not only will this ensure that it meets most airlines' carry-on size restrictions, but it's also a fantastic way to stay organized while on the go. If you plan to travel by air, it's best to stick with this size or go smaller, as most airlines won't accept larger carry-on bags. For everyday use, you can categorize duffel bags into small, medium, or large sizes – making it easy for everyone to pick the perfect fit.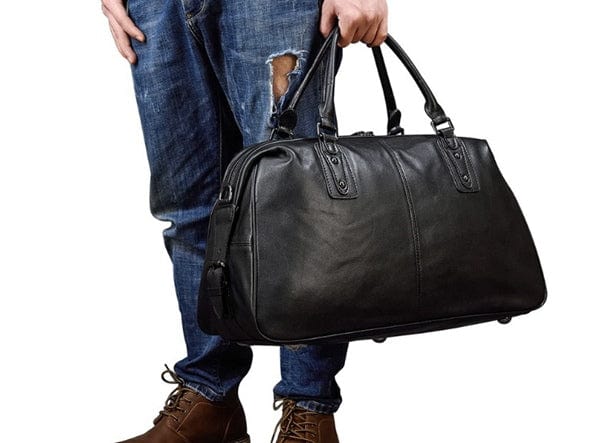 Duffle Bags Capacity to Hold Objects


Did you know the average duffle bag can comfortably hold up to 50 pounds? However, military duffel bags are designed to carry heavy weaponry and equipment and weigh as much as 450 pounds. But just because your excellent duffel bag handles a great amount of weight doesn't mean it should. Accordingly, Neurology & Spine explained that carrying heavy purses, hefty backpacks, or huge duffels may cause strain in your shoulders, neck and upper back. 

Usage of Duffle Bags


 

Camping and Outdoor Adventures
Camping and outdoor recreation enthusiasts often rely on duffel bags to carry their gear. These handy bags are now available in various designs for activities like camping, hunting, and fishing. Whether you prefer waterproof nylon or tough canvas material, a duffel bag is perfect for your needs. Choose from various colors and styles, including hunter orange or camouflage, to suit your outdoor activities. Don't leave for your next adventure without the perfect duffel bag! With the right duffel bag, you'll be ready to take on any adventure, any time and anywhere. 


Air, Land and Water Travel
Due to their convenience and compatibility with modern travel, travel duffel bags have become a go-to choice for frequent travelers. These lightweight bags easily fit in overhead bins and are equipped with various pockets to keep your belongings organized and accessible during transit. To enhance ease of transport, manufacturers have integrated features like wheels and handles into the design. With a travel duffel bag, you can breeze through your journey without worrying about bulky luggage or extra weight on your shoulders.


 

Sports Games, Practices and Recreation
Heading to the beach or pool for a swim? Or are you ready to hit the tennis or racquetball courts? Maybe basketball or baseball is more your style. Look no further than a duffel bag to hold all of your gear and get it safely to your destination. With duffels specifically designed for different sports, from skiing to swimming and everything in between, you can find the perfect bag for your sport of choice. Don't let bulky equipment hold you back - grab a sport duffle bag.


 

Gym Fitness Bag
Gym enthusiasts rejoice! A gym duffle bag is an ultimate solution for all your workout gear. These bags are spacious enough to accommodate everything you need, with separate pockets and compartments to keep everything organized. These spacious bags are designed to hold everything a fitness enthusiast needs and come equipped with multiple pockets and compartments for easy organization. What's more, they're stylish accessories that elevate any workout attire. Plus, they're stylish accessories that will complement your gym attire perfectly. Say goodbye to carrying multiple bags and hello to a hassle-free workout routine with a gym duffle bag.


 

Home Organizer and Things Keeper
If you've got old duffel bags lying around, don't toss them just yet! Families inevitably grow, and youngsters outgrow clothes, toys and almost everything. But instead of cluttering up your storage space or throwing away memories, store the navy blue blazers, short pants, baseball uniforms and tutus from your 6th-grade Christmas pageant. You never know when they'll come back into style! And what about seasonal items like summer curtains or cabin linens? You've got the perfect organizer storage to declutter your things.


Common Things inside a Duffle Bag


Packing for a trip can be daunting, but with a few essentials in your duffle bag, you'll be set for any adventure. While some items may vary based on the destination or length of stay, a few must-haves remain constant. When it comes to arranging and packing for a trip, there are some essentials that we always need. While your packing list may change slightly from trip to trip, the core items remain the same. To show you how to efficiently pack your duffle bag for any type of travel, we've put together our definitive carry-on packing list as an example. Whether you're heading to a chilly weather destination for a week or a warm weekend getaway, your packing list will likely look like this:


-Pack smart for your next trip with our duffle bag checklist! Inside, you'll find four bottoms - skirts, pants or shorts; tops including t-shirts, tanks and long sleeves; a cozy sweater and a jacket for those chilly nights. Don't forget your essentials: pairs of underwear, bras and socks to match. A swimsuit is a must for any beach destination, and a scarf or sarong can double as a cover-up.


Gadgets and Electronic Devices
For the modern traveler, having the perfect inside duffle bag is essential. You need a bag that can store your smartphone with an international plan or unlocked for a local SIM, chargers, headphones, travel adapter and even your laptop or tablet. Don't forget to add your Kindle or e-reader for extra entertainment on those long flights. With all these compact and convenient features packed into one bag, you'll be ready to explore every corner of the world!


Cosmetics and Beauty Things
Our duffle bags are designed to keep you ready for any occasion! You'll find everything you need to feel fresh and put together. We've got you covered, from make-up and cosmetics to a hairbrush and lotion. And don't worry about forgetting your toothbrush or toothpaste - we've included those too! With our duffle bags, you'll always be prepared to look and feel your best.


The duffle bags are essential for any adventure, and they contain all the necessary items that one might need in emergencies. Our duffle bags carry first aid kits, including soap, shampoo, conditioner, and medicine tablets. So you can have the best experience during your trip without worrying about getting sick or being unprepared for an emergency. 


The duffle bags are spacious enough to accommodate all you need for your outdoor adventure, including pens, journals and books. With its sturdy material and durable construction, the duffle bag ensures your belongings stay safe and secure during transit. Whether planning a quick getaway or an extended trip, our duffle bags are the perfect travel companion to carry all your essentials in style.


The Best Qualities of Duffle Bags


If you're planning a trip, there are many reasons why you should consider packing with a duffel bag. With its flexible structure, durable exterior and superior spaciousness, it's no surprise that this luggage style is so popular. Here's a detailed breakdown of the advantages of using duffel bags:
Versatility - Duffel bags come in various sizes and shapes, making them versatile to accommodate all kinds of travel needs.


Durability - Made from high-quality leather, duffel bags can withstand any weather.


Timeless Fashion - Fashionable duffel bags offer more than just style. Leather styles exude rugged sophistication, while a range of duffel bags comes in eye-catching colors that will surely turn heads. So why settle for a basic gym bag when you can have fashion and function all in one with these stylish duffel bags?


Affordable Gift - The perfect gift for your adventurous friend? Our selection of affordable gifts that are ideal for anyone who loves the great outdoors. From camping gear to hiking essentials, our collection has everything an adventure-goer needs to conquer any outdoor expedition without breaking the bank. So why spend more when you can get the best deals on quality gear? Give your loved ones something they'll truly appreciate and use on their next adventure with our affordable outdoor gifts!


Cons of Duffle Bags


 

Security Issue
While popular for their spaciousness, duffle bags have some disadvantages to consider. For one, they lack the protective barrier offered by hardshell luggage and may not be the best option for delicate or valuable items. Additionally, duffle bags can be difficult to carry when packed with heavy items, adding strain to your shoulders and arms. Finally, compared to suitcases, duffle bags can be harder to organize unless you invest in packing cubes or other accessories.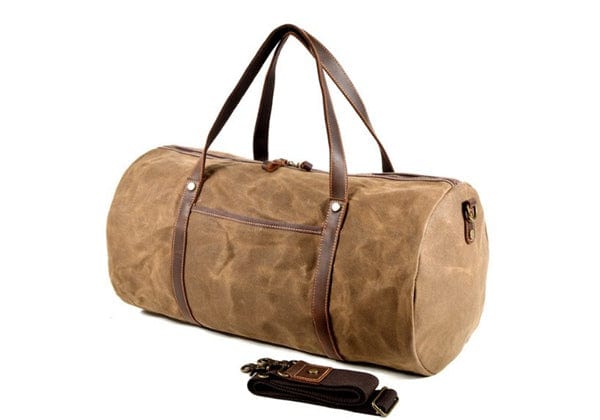 Heavy to Use for Beginners
Being a frequent traveler, you might be familiar with the struggle of carrying around a duffle bag. Despite their convenience and spaciousness, duffle bags can be quite unruly and difficult to carry around for long periods, especially if loaded to the brim. This is particularly true if the bag doesn't have a shoulder strap or hand grip. The lack of these features can strain your arms and shoulders, making it an uncomfortable experience. Furthermore, duffle bags have limited organization options compared to other types of luggage.


 

Difficult Items to Find
If you plan to pack for a trip, you might avoid duffle bags. While they might seem like a good option because of their spacious design, they have disadvantages that can make your journey uncomfortable. One major downside is that accessing one item in your bag can be harder without disrupting the rest of the contents. Duffle bags usually have one main compartment, making it difficult to separate and keep items organized. This means that if you need something from the bottom of your bag, you will have to dig through everything else on top of it.


Tips on Caring your Duffle Bags


Looking for ways to keep your duffel bag in top condition? Look no further! Here are some of the best tips on how to care for your trusty travel companion:
Always empty the duffel bag before storing it. This will help prevent moisture damage and ensure your bag stays fresh and clean.


Clean your duffel bag regularly using a gentle cleanser or soap and water. Avoid harsh chemicals or abrasive scrubbers, as these can damage the fabric.


Store your duffel bag in a cool, dry place and far away from direct sunlight to prevent fading of colors.


If your duffel bag is made of natural fibers like canvas, brush it off occasionally to remove any dirt or dust that may have accumulated. This will help prevent any permanent stains or damage. By taking care of your duffel bag, you'll be able to use it for all your adventurous travels without any worries!


Taking care of your duffel bag is important to keep it looking new and in good condition. If your bag has any leather trim or straps, regularly condition them with a high-quality leather conditioner to prevent cracking or drying out. Keep your bag clean by wiping it down with a soft damp cloth and avoiding harsh chemicals that can damage the material. With these simple tips, you can ensure that your duffel bag will last for years and always look its best on every adventure.
Shop our collection of:

Women's Leather Duffle Bags | Men's Leather Duffle Bags | Women's Canvas Duffle Bags | Men's Canvas Duffle Bags | Yoga Duffle Bags | Vintage Duffle Bags
Related Posts: