Backpack Vs Rucksack. What's The Difference?
It's common knowledge that rucksacks and backpacks are two of the most common types of luggage. Both are excellent choices, but there are particular distinctions you should be aware of.
Learn about rucksack vs backpack to pick the right one for your travel needs.

Definition of a Backpack
A backpack is a two-strapped bag used to transport gear to and from the outdoors for work or travel. A pack has two straps, typically sling it over one's shoulders. Those who trek, travel, or attend school often use them to carry books and other necessities.
The term "backpack" did not appear until the early 20th century in the United States. Said a backpack is a bag worn on one's back. Moneybags and packsacks were the common alternatives to backpacks until its introduction. The term "Backpack" quickly became prominent and is still widely employed today.
The typical capacity of a large backpack is 10 kg. Some backpacks feature hip belts to transfer weight off the shoulders and onto other portions of the body. A hip belt is helpful when you need to carry your belongings for a long time. 

The Use of Backpack
When venturing outside, nothing beats the convenience of a backpack. Every day calls for the use of numerous essential items. The packs make it convenient to transport the items. Depending on what you need them for, you can get a wide selection of bags in the local supermarket.
These bags are versatile enough to be used anywhere, from the workplace to the classroom to a weekend camping vacation. It's great for keeping your laptop and other electronics dry and safe from theft or the elements.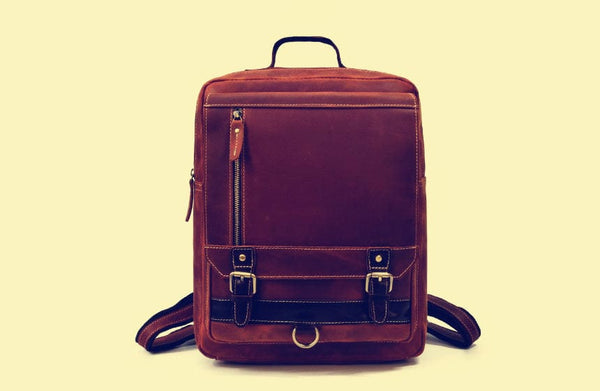 Definition of a Rucksack
In this sense, a rucksack is a type of backpack. No distinction can be made in this case. The two terms can be used interchangeably. Each term has its supporters, and each is used interchangeably by the general public. The size of this bag is considered to be substantial. The Germanic roots of the English term "rucksack" are the words "rucken" and "sack." The back bag is a rucken sack.
The term "rucksack" is often used for military contexts. This term originates from the English language. The use of a backpack has the same meaning in both cultures. This backpack is typically used by hikers and is significant, tough, and waterproof. A rucksack is a type of bag typically used for transporting big loads. The military has a great deal of equipment, tools, and necessities that they must bring with them. They must be sturdy and have enough room in the bag to last a while.
Rucksack can hold all their belongings and is suitable for all their needs. It's more practical than a day bag for their needs. Modular Lightweight Load-carrying Equipment (MOLLE) is another crucial component of a backpack (MOLLE). You can load up more on it than any of the alternatives.
Bags with such a large capacity are unavailable. That's why military personnel prefer these containers, which meet their requirements in terms of quality construction, durability, and many others. Rucksacks typically come with hip belts and occasionally chest to make carrying heavy loads more manageable. This is all about what is a rucksack.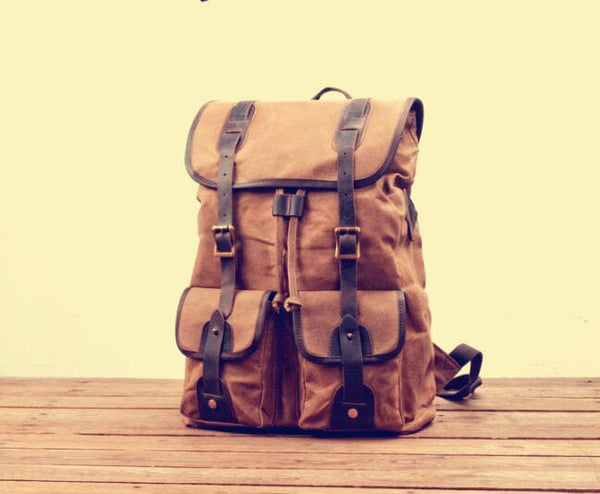 Rucksack vs. Backpack: What's the Difference?
Backpack Vs Rucksack: Style
Simply put, a backpack is a bag designed to be worn across the back. While traditionally associated with students transporting their books to and from class, backpacks have recently gained popularity as a practical and stylish option for adults in both the professional and personal spheres.
Although they come in various designs, every backpack has two sturdy straps that make it ideal for transporting big loads, making it a top pick for cyclists and other commuters. It's possible to find a backpack made of anything from leather to canvas, with closure options (such as zips, buckles, Velcro, or clips).
But a rucksack is built in a very particular way. The closest comparison would be a sturdy backpack. The German word "der rucken," which means "the back," is where the term "rucksack" comes from. Since most rucksacks are constructed from hardy, water-resistant fabrics, they are commonly used for outdoor activities like camping and trekking. As with military rucksacks, rucksacks often include a drawstring or tie closing.
Backpack Vs Rucksack: Functionality
Compared to carrying big stuff in a handbag or messenger bag, a backpack or rucksack is the most convenient option when the weight is shifted to one side. You might find that a rucksack is suitable for traveling or camping because it is top-loading and can hold more bulky items like a tent or fishing rod.
Conversely, a backpack can still have plenty of room, but it usually has additional pockets for transporting everyday items. Almost any modern backpack will have a padded compartment for your laptop and several other pockets for your keys, phone, and other small items. Because of this, a backpack is a practical bag for a college student or office worker.
Backpack Vs. Rucksack: The Decision
It is suggested that a backpack is best for extended excursions and carrying heavier stuff due to its vast interior and secure top-loading design, which makes it more difficult to find specific objects within the bag. A backpack is far more practical for day-to-day use because of its clear sections and zip closing.
While most people will use either "backpack" or "rucksack" interchangeably, a fast Google search will reveal two unique bag types. There is a broader range of alternatives in terms of form and style for backpacks, including sporty, smart, and casual varieties. In contrast, searching for rucksacks is more likely to yield the rugged-type bag, better suited to outdoor activities and long journeys.

Benefits Of Rucksack:
A rucksack harness is a significant investment to prevent any backpack from slipping off your back. The weight of a knapsack can put a lot of pressure on your shoulders and back, but a harness will assist disperse that weight so that your whole body feels the benefit. 
The load it can bear is more significant.
A waist belt can be used to spread the load on your back better. Useful for those who plan on carrying a heavy load on their backs, it prevents the rucksack from shifting about while you're on the move.

Rucksack's Disadvantages:
Without a rucksack harness, a rucksack might be a pain to carry.
Adequately adjusting a rucksack harness calls for time and exercise.
You may have to put in more effort and pay more money to find a rucksack that is suited to your needs because they are less common than backpacks.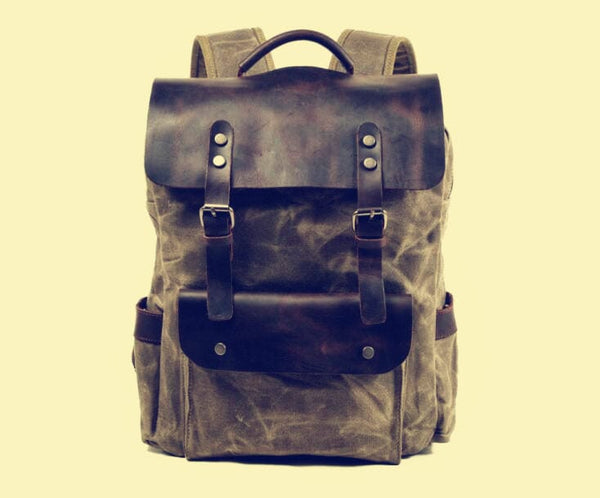 Benefits Of Backpack:
Comfort-oriented designs make backpacks smaller and lighter than rucksacks.
There are additional pockets and compartments, making them ideal for students of all ages.
Hikers and mountaineers frequently use backpacks because they can hold more gear than a rucksack.

Disadvantages of Using a Backpack:
The sagging of backpacks is a known source of back pain.
You might want to invest in many backpacks if you require them for various trips. Carrying two different backpacks at once might be a pain, especially if you're trying to combine your hiking and daily needs.

Buying Advice for Backpacks
If you want a great time outdoors, pick a backpack with an adjustable hip belt. The thicker the padding, the more support and comfort there will be when carrying big weights, which is typically proportional to the size of the pack. If you want the importance of the bag to be distributed evenly across your hips, you should girdle it over your hip bones; try on different packs to find the one that fits you best.
A backpack's shoulder straps should be cushioned and adjustable for comfort. Better-made backpacks tend to be more relaxed on the shoulders. Expensive backpacks often feature breathable mesh padding on the bag's wide exterior. You won't overheat as much on hot days. Try before you purchase is the best advice when looking for a backpack if comfort is your top priority.
You should be able to customize the fit of your backpack by adjusting the sternum strap. It makes your pack a little more secure and comfortable to wear. When carrying hefty things, making sure the straps don't slip off your shoulders is essential.
Some backpacks have compartments on either side to store a water bottle. As a result, hikers and mountaineers can benefit greatly from it because they can bring enough water to last the entire journey.
They aid in stabilizing your backpack by drawing it closer to your body. When trying on a backpack, if you feel like it is always moving about, try tightening the compression straps to see if that helps stabilize the pack.
The quality of a bag can be significantly affected by its material. Backpacks made of lightweight nylon or polyester are best for trekking and mountaineering. The carbon fiber ones are the lightest and most long-lasting.
When shopping for a backpack to use for outdoor gear, it's a good idea to search for one that has been reinforced with extra stitching or bar tacks.
Depending on the design, some backpacks feature a removable lid that doubles as a storage space when not used. Sleeping outside might act as a barrier between you and the weather, keeping the rain off your stuff and keeping you dry.
Zipped front panel access
Look for backpacks with zipped panels if you require rapid access to your belongings. These will prove invaluable in an emergency where time is of the essence.
The size of your backpack is crucial if you plan on using it for trekking or mountaineering. A bigger pack will make it easier on your back if you're going on a hike. On the other hand, you should think about how much weight your backpack can hold.
The standard capacity of a bag is 50–60 liters, but if you need to carry a lot of gear, it's best to seek a backpack with at least 75 liters of space. It will make your pack more functional and ergonomic, allowing you to carry more gear while being comfortable.
The front stash pouch of several backpacks is a great place to keep goods you frequently need to grab. Tools and medical supplies are included.
A daypack that may be detached from the main pack is included with some backpacks. It's perfect for carrying your food, water, and extra gear while you're out on a hike or climbing a mountain. As a bonus, you can use it as a regular daypack when you're not out on a hike.
You may keep your water bottle, umbrella, or hiking poles safely tucked away in the side pockets of many backpacks.
Try to choose a backpack that comes with a rain cover if you plan on doing any hiking or mountaineering in the rain. Particularly helpful if you're trekking in chilly circumstances and need to wear many layers, it will shield your possessions from the rain.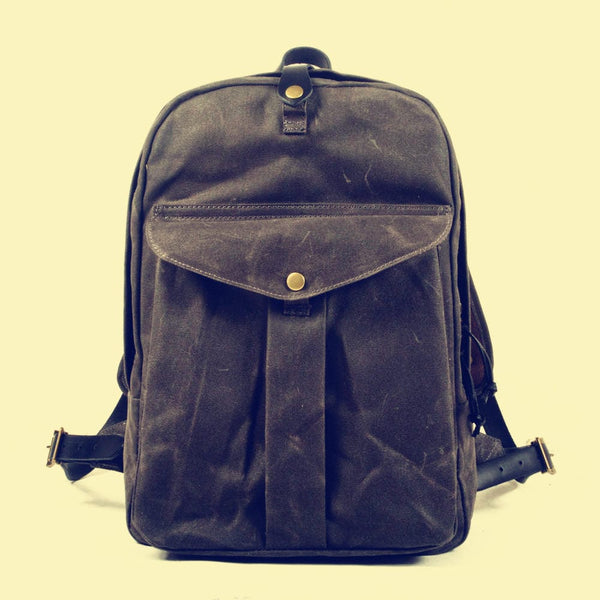 Buying Advice for Rucksacks
When traveling a great distance on foot, it is preferable to use a backpack equipped with a shoulder harness. They're comfortable and won't put unnecessary pressure on your neck by spreading your load.
If your backpack has insufficient connection points, a chest strap might help keep it in place as you move.
It would help if you made sure that the back panel of your backpack is well-padded and has appropriate ventilation. Walking over extended periods while carrying a heavy pack will assist reduce the buildup of sweat.
This rucksack's main compartment is easily accessible via the front zipper, facilitating the retrieval of goods farther down the pack.
It's beneficial while carrying a big load since it will keep the shoulder straps from sliding off your shoulders.
If your backpack's main compartment doesn't include zipped side panels, you should hunt for a model that does. You can get to the food and other necessities at the bottom of your luggage without having to unload everything else first.
There is a space for a laptop, so you can take your computer wherever you go. It safeguards the wearer from the daily hazards of being on their feet.
As a bonus, this prevents outside elements from entering your bag and potentially damaging or contaminating the contents. It's hard to find a better way to see the world and improve your physical fitness than through backpacking.
You may adjust the cushioning in the back to find the perfect fit for your body.
If you have to carry a big load, a hip belt can aid you by distributing the weight away from your shoulders and onto your hips.
Most backpacks come with a smaller bag to use as a daypack, but you may likely find one for sale separately if yours doesn't. To minimize your weight, it's best to leave the bulk of your possessions at the hostel or hotel and bring a daypack along on day hikes and sightseeing excursions.
Pockets on the shoulder straps are a handy addition to specific backpacks and are ideal for stowing away electronic devices like smartphones and music players.
You can usually find an extra side pocket for your backpack if it doesn't come with one. Even on short outings like walks for sightseeing, it's wise to bring along a water bottle.
A cover may be rolled up and stowed out of the way when it's not protecting your bag from the elements. Hikers who frequent high terrain will appreciate the inclusion of these loops, which may be used to secure walking poles or ice axes.
Hikers who wish to keep their water supply going while on the trail can benefit from carrying a hydration bladder. They are compact enough to carry in a backpack and offer a convenient way to sip water without taking the load off your back.
If you have a laptop and a sleeve, you can take them everywhere. While preventing damage from accidental impacts and daily wear and tear. As a bonus, this prevents outside elements from entering your bag and potentially damaging or contaminating the contents.

Rounding Up Rucksacks vs Backpacks
Many people use the terms "backpack" and "rucksack" while speaking casually. Some of the distinctions of rucksack vs backpack mentioned above may not even be universal.
Both are fine to pack for a day trip, a weekend break, a visit to the supermarket, or a stroll around campus. Pay greater attention to the design and additional features when shopping for the best backpack or rucksack for your needs.
Whether it's a backpack, rucksack, or some other bag, use whatever you choose and have fun with it! Don't worry about the finer points while preparing for your next camping trip or other outdoor activity.

Shop our collection of:
Leather Backpacks | Canvas Backpacks | Men's Leather Bags | Men's Canvas Bags | Women's Leather Bags | Women's Canvas Bags
Related Blog Posts: