Types of Travel Bags Unveiled: Your Ultimate Guide to Jetsetter Style
While everyone enjoys travelling to new places, we all seem lost when packing. Bringing the correct bags with you may make or break your overnight or weekend trip. There are many things to consider when picking out the correct travel bag for a vacation. If you can't tell them apart, don't stress! Look at our list of the different types of travel bags to get to know all about them.
Travel bags have come a long way from the bulky steamer trunks of the early 20th century to today's sleek, lightweight, and functional carry-ons. With people travelling more than ever nowadays, you will notice the oversaturation of different travel bags in the market! You'll find backpacks, travel totes, duffel bags, hard-side luggage, fanny packs, and many more!
The best travel bag satisfies your looks, weight, and flexibility needs. With so many options, it's essential to take the time to find a suitcase that will let you explore new places without worrying about the safety of your belongings. To help you find the correct travel bag depending on your destination, we bring you the top 9 types of bags for travel in this article!


What Are The Categories of Travel Bags?


Packing your belongings in the correct luggage for your trip is essential. A wide selection of travel bags is available to suit everyone's needs and preferences, whether they're going away for a weekend or a year. Let's look at the most common ten categories of travel bags available in the market:


Backpacks
Backpacks are our ever-familiar travel bags. Just like the name suggests, we wear these over our backs. It's spacious enough to hold your essentials for a weekend getaway and has two shoulder straps. Padded hip belts can be seen on some leather or canvas backpack models and distribute the load away from the shoulders and onto the hips.
So, if you need to carry many things, these backpacks have you covered! Carrying large bags will only cause a little discomfort to your shoulders if they have these padded hip belts. Backpacks are more space-efficient than other carry-on options. You can't beat them if you're looking to minimize your baggage.
The downside is that you can't pack as much as you would like because they aren't as roomy as other luggage options. Some, however, have a weight capacity of more than 22 pounds. There are a variety of secure closure options to choose from. Backpacks are best for camping, backpacking, road trips, and hiking. 

Browse our travel leather backpacks
Wheeled Backpacks
If you love the flexibility and minimalism of backpacks but want to avoid carrying them on your shoulders all the time, wheeled backpacks are for you! They are backpacks but with wheels and frames for convenient mobility. So you can take these around everywhere! Wheeled ones dramatically improve backpacks, especially for people who frequently carry large loads.
Wheeled backpacks can hold more gear since they are larger and more mobile than traditional backpacks. There are also wheeled backpacks that convert to shoulder bags. You can drag it around if you must move about a major airport on foot. You can also sling it over your shoulder and keep on moving if you need to use an escalator or get through a crowded area.
These backpacks come in a wide range of sizes and designs. They are typically less expensive and more spacious than other travel bags. These are best for journeys where you will spend most of your time in the city but have the option of spending some time in the countryside.


Wheeled Luggage Bags
This rollable luggage has a durable shell, wheels at the bottom, and a retractable handle. They're handy since you don't have to carry the load. Since their introduction in the 1970s, rolling luggage has become popular among many travelers. These bags are best for rugged trips, and you can board these bags on the plane without going through security.
Different-sized wheeled bags are available. The large main compartment makes it easy to store a wide variety of stuff. In addition to the main compartment, two additional mesh-lined pockets are inside for storing smaller items. There are two common types of rolling luggage, with either two wheels or four.
Because of their mobility, the four-wheeled carts are often called "spinner" bags. Most wheeled luggage has sturdy sidewalls made of materials like ABS plastic, polyester, nylon, or a tough tarpaulin. So they are more durable and protected from harsh weather and dust than standard suitcases. They're also more resistant to damage or breaking.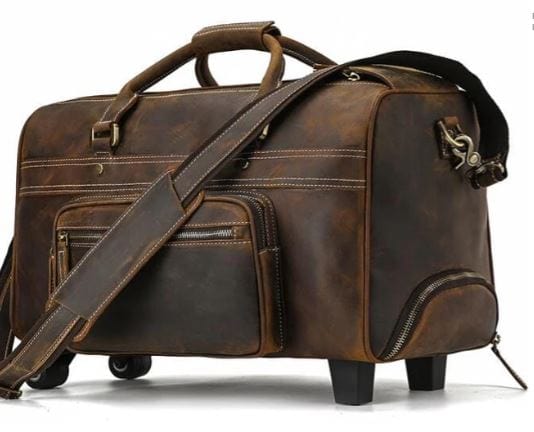 Duffel Bags
Duffel bags are large, tubular bags with sturdy zippers and carrying straps. These bags tend to have an enormous main compartment. However, when they're on the compact side, we call them Weekender bags; they're like a fancy gym bag, but you can take them with you on a weekend trip. The standard height for a duffel bag is between 30-36 inches.
The interior volumes also change. Some leather duffel bags have sections on the inside to help you sort things out. Others feature storage compartments made of netting on the inside. These compartments are ideal for storing small things. These bags are best for short trips, day trips, weekend getaways, or other possible trips!
Canvas and leather are two of the most common materials for duffel bags. The thickness of the material usually ensures that whatever is inside will be safe.They include solid straps or handles, so you can easily carry or drag them anywhere. The zippers are not only solid but long-lasting as well.

Shop mens leather duffel bags and womens leather duffle bags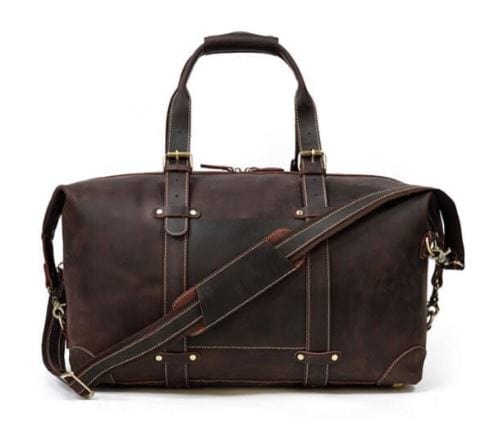 Wheeled Duffel Bags
Duffel bags seem perfect, but do you wish they came with wheels? Well, then, you are looking for wheeled duffel bags. Rolling duffel bag is another name for it. Like regular duffel bags, you can expand them to hold additional stuff and stand up to rough treatment. The spinner wheel is a unique addition that makes it simple to pull behind you as you go.
You can happily bring a lot of stuff with you and not stress out about how to transport it all if you have a wheeled duffel. It doesn't matter how hefty it is; you can easily carry it! Duffel bags on wheels come with multiple carrying options thanks to their multiple handles, front, and side, and bag attachment clips.
If you don't have much to bring, a medium-sized or small bag will fit in the overhead bin. Plus, it will be easier to transport and navigate the airport. These bags are best for those who hate carrying things but pack too much stuff for their trips. They are also best for those with a bad back or tense shoulders.


Messenger Bags
You may also know these bags as courier bags or shoulder bags. Initially, messengers would carry around these bags to transport documents during deliveries, hence the name. Nowadays, you may use the bag for everything from a weekend getaway to a night out.
They are available in a variety of styles. It has some smaller pockets on the outside. But the prominent design feature is a spacious primary compartment that can hold all your belongings. You can modify some to make additional room in the bag as they expand. Some messenger bags even have dedicated slots for electronic devices like notebooks, tablets, and smartphones.
You can wear a messenger bag on your body and quickly access your belongings. You can get to whatever you need by flipping it to your front. They are more professional and appropriate for business settings than backpacks.
Buy vintage leather messenger bags and canvas messenger bags
Travel Tote
Traditionally, most women would use tote bags. However, now, the unisex version of this bag has become quite popular. Until recently, the tote bag wasn't even considered a travel bag; most people recognize them as small bags. But these travel tote bags are the best for short or day trips!
Even for weekend trips, you can sling a travel tote bag over one shoulder or wear it as a neck bag if you pack lightly. A travel tote typically has one spacious section where you may store your travel necessities.
Some may even have separate sections for your electronics, cash, and travel documents. However, most have a maximum of a single storage space. So you'll have to rummage around to find what you need.

Shop our leather totes and canvas totes
Laptop Bag
Laptop bags are a good option for carrying computers, tablets, and other electronic devices. Suppose you must carry these devices for business, conferences, or commercial and recreational reasons. In that case, a laptop bag can easily suffice.
It's a straightforward bag with just one shoulder strap, although you can still get one with more. There is a zippered inside compartment designed to protect your electronics from scratches. Plus, there should be an additional section for your computer's accessories.

Buy leather laptop bags
Bucket Bag
The name comes from how the bag looks when it's full of things. With everything, a bucket bag looks too much like a bucket! The interior is spacious, with a circular or oval shape and an open top. A bucket bag's design makes it stable enough to stand by itself. Many sizes and shapes are available on the market, making it easy to find something that works for your trip.
Depending on the style, you may carry these bags in various ways. The standard bag has enough room for a change of clothing, some toiletries, and a phone.You may store all of your belongings in a single large pocket. Some have zipped compartments perfect for storing a cell phone, passport, or other small essentials.
Most bucket bags close with a drawstring, which helps with effortless opening and closing whenever necessary. Ensuring the drawstring is tight enough so the bag won't open independently is essential. If you love tote bags but need minimal luggage, these bags might be the best choice.


What Are Traveling Bags Called?


The most common term people use to call travelling bags is "Luggage." Luggage is any bag or container used to transport belongings on a trip.
As a general phrase, "luggage" refers to a wide variety of bags that you can use for various purposes and styles of travel. Travelling bags can range from simple suitcases to large duffel bags, backpacks, tote bags, and messenger bags.


What Is The Most Common Type of Luggage?


Common luggage categories include backpacks, suitcases, and carry-ons. Including their handles and wheels, the average size of a carry-on bag is 22×9×14 inches, making it suitable for storage in an aeroplane overhead bin. Storing them in a train's overhead compartment or a car's trunk is easy. So they are convenient for commutes and vacations.
Suitcases are standard among travelers but can be large, and you need to check them in at the airport. You can have them with a hard or soft exterior, with or without wheels, and in various sizes. The suitcase's length + breadth + height can be anywhere from 62 to 158 inches, though this varies per airline.
Designed with portability and durability in mind, nowadays, backpacks include ergonomic shapes and plenty of pockets. They also come with many cool features that make life easier on the road. Backpackers frequently use them.


Essential Factors to Think About When Choosing Luggage


There are many options for suitcases, and it can be challenging to find the ideal one for your trip. Before making a purchase, think about the following:


Size
Find out what size suitcase you need to carry your necessities before you go luggage shopping. A carry-on size duffel bag could be ideal if your vacations rarely exceed a week and your belongings are pretty light. Smaller bags, like backpacks or messenger bags, are convenient for storing the necessities for shorter trips. These would suffice for overnight camping or a weekend at a local beach.
However, wheeled luggage helps ensure that everything you need for your trip is there. Mainly, if you are going somewhere cold and need bulkier goods like coats, sweaters, and boots, these bags greatly help.


Extra Security Features
Remember to consider all the functions you need from a suitcase. You can easily find all your necessities with the zip closure of a travel tote or duffel bag. 
However, some luggage has two-way zippers and cross straps to hold your belongings in place. In comparison, others allow you to attach a TSA-approved lock for extra security.


Longevity
Not all travel to the same destination; your bag should suit the place. You may cruise through the Caribbean, drive across the country, or fly halfway around the world. No matter where, your luggage is bound to become battered and bruised. So, longevity will always matter.
While there are many options for luggage, it's worth spending a little extra on a sturdy suitcase to ensure it lasts for many trips. How frequently you travel and how you get there should determine the level of protection you look for in a suitcase. Consider whether the bag is water-resistant or can withstand scratches and shock absorption.


Conclusion


When you start packing for your travels, neck pillows, sweaters, and good shoes first appear in your mind. Of course, they are crucial for your comfort, but what about a sturdy travel bag to keep all your belongings safe? Do you need to want to know where to begin when choosing between all the different types of travel bags? 
Well, no worries! We'll guide you in deciding by listing all the types of bags for travel and the most essential features to look for in a new travel partner. Hopefully, now you can choose the perfect travel bag with ease. Consider looking at our vast travel bag collection here for a head start! Thanks for reading till now.


Key Takeaways


There are several varieties of suitcases available to meet your every travel requirement. You can choose from various bags, such as a backpack, a backpack on wheels, a suitcase, a duffel bag, a bag on wheels, a messenger bag, a travel tote, a laptop bag, or a bucket bag.


For convenience and flexibility, nothing beats the simplicity of backpacks.


Wheeled backpacks combine the portability of backpacks with the ease of wheels, making them perfect for use in urban areas where you may need to switch between walking and rolling.


Wheeled luggage is a convenient and roomy alternative for travelers who prefer to roll their bags rather than carry them.


Duffel bags are the best for those who carry more stuff for all their travels.


Messenger bags are now ideal, convenient and practical options for anything from weekend excursions to work trips.


Travel totes and laptop bags are perfect for you if you want to go on short or day trips or carry less luggage for your trips.


The perfect travel bag for your trip is the one that fits your demands and preferences in terms of size, security features, and durability.
Shop more:

Cute Travel Bags | Luxury Travel Bags
Related Posts: