Brown Leather Shoulder Bag Mens Vintage Messenger Satchel Purse
Unisex Brown Leather Shoulder Bag Messenger with Aged Vintage Looking!

We believe that our leather shoulder bag purse will stand out in the crowd. Once you start to use any of our products, over time you will notice how the leather changes its appearance to be a more mature and aged looking. The men's messenger bag is convenient and practical for everyday use. Inside one large compartment, one pocket for a smartphone, documents, or other valuable items. The bag has a solid bottom for heavily loads.
A leather shoulder bag adds up more elegance to carry a laptop or other stuff compared to a backpack. It will give seurity to your stuff and will help you to give your essentials more convenient.
Let this stylish and unique leather shoulder bag purse take you back in time to when things were just so simple. The leather material will keep your story tightly closed. The messenger bag makes a perfect gift or present for the anniversary, graduation...... and will surely excite anyone.
Features Of Vintage Leather Shoulder Bag Purse
100% handcrafted at LeatherNeo studio.

Genuine leather with beautiful and durable stitching, giving it a sleek look and a slim body.
Each of our products is uniquely designed and handcrafted. At LeatherNeo, uniqueness and quality are highly valued.
Distressed oiled or waxed leather will be aged beautifully over time.

Multi-pockets inside for other accessories like small books, wallets, phones, etc...
About The Dimensions And Space Info Of The Brown Leather Shoulder Messenger Bag
Length x Height x Thickness
34 x 24 x 9 cm
Weight: About 1.1 KG
Adjustable shoulder length: 80-150 cm
Adjustable shoulder strap length: 80-150 cm
This shoulder bag can hold a 13-inch laptop, clothes, books, folding umbrella, wallet and mobile phone, etc at the same time.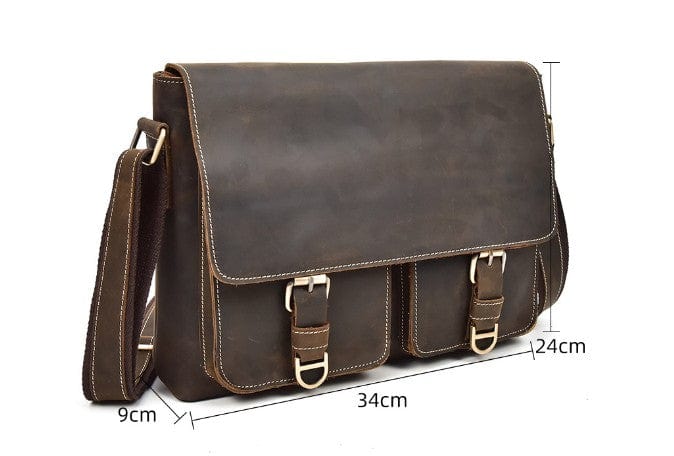 Leather Care And Corporate Orders

We source our leather from a reputed US-based tannery that focuses on sustainable leather production. As a result, our products are of top grade and highly suitable for corporate and client gifts. A useful and unique leather gift featuring the company's logo or a special word will extend your brand for years. We have cooperated with several companies and clubs. Moreover, we use only high-quality leather material and threads. Leather is the greatest material to keep your story!
Small Scratches
When LeatherNeo creates a leather shoulder messenger bag, we do our best to avoid scratches on leather. Some rustic-looking leather definitely leaves a small mark, but the marks are not ugly, it displays a rustic aged looking. These scratches are typically very small and appear as subtle lines that are slightly darker than the surrounding area. Our luxury smooth or vegan leather has no scratches or marks.
About Personalization
LeatherNeo is a great leather goods store with unique designs. We supply leather goods that are beautifully crafted and personalized to your needs. We do provide customized products that are designed according to your requirement and taste. We always try to serve them with the best quality service. If any product is not stock, we will refund the complete amount.
1 Default emboss in Gabriola or Times New Roman font.
2 Default fonts size: we will choose the best looking size according to the item size.
About Shipping
We always try to ship orders within two to four business working days. And if we have much orders to deliver then the order might get delayed by few days. We hope that our customers understand our terms and continue to purchase.
1 We usually ship your orders about 2-5 days later on average
2 According to our experience, the shipper will take 8-18 days to worldwide for normal shipping
We found other products you might like!