How to Screen Print on Leather?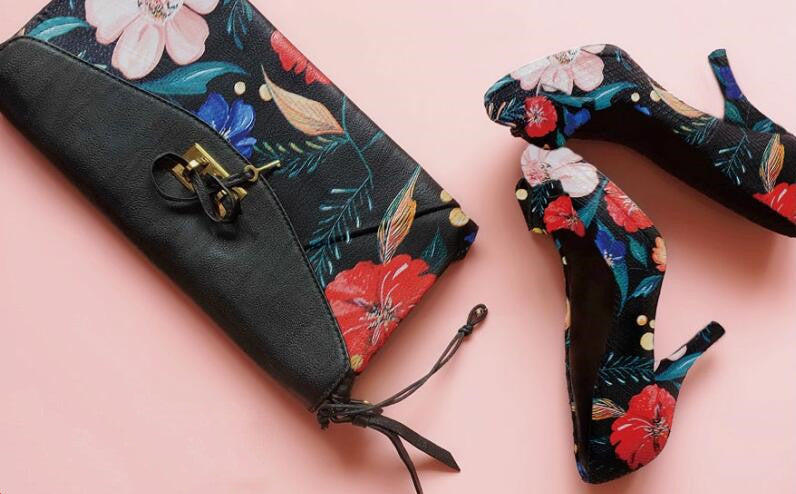 The screen printing industry is much bigger than it used to be. You may already know that screen printing may be done on wood, plastic, and fabrics. This post will show you how straightforward it is to print on leather.
You can use this method to do any project out of leather. You may add your style to leather journals, notebooks, portfolios and photo albums. 
You can also put your designs on jackets, backpack bags, wallets, wristwatches, and other printing on leather items.
Yes, printing using a screen is as easy as printing with ink and paper. You may construct a wide range of unique designs by putting different treatments on leather to make it look subtle and bold. Screen printing doesn't work on some kinds of leather, which I'll discuss more in this article.


How do you print on leather?
How to print on leather? Textile printing is the process of using color to make patterns or designs on fabric. When fabrics are printed right, the paint is bonded to the fibre so that it won't come off when washed or used. But screen printing on leather is different from printing on cloth. Printing patterns, emblems, and other decorations onto textiles is a way to decorate that is more frequent in the textile industry than in the leather industry. Most of the time, leather that has been printed is used for handbags or labels. Screen printing and inkjet printing are both ways to print.


Tools:
In printing, colors can be put on the cloth by wooden blocks, stencils, engraved plates, rollers, or silk screens. Colorants used in printing have dyes that have been toughened so that the color doesn't spread via capillary attraction past the design or pattern.


Neutralization of Leather:
The application of the present invention works best with leather that doesn't include any mineral salts and is made with dyes and tanning chemicals that come from nature. But the design can be used with leathers with very few mineral salts, preferably less than 5%. It is thought that leather with a salt content beyond the mentioned maximum limit will be less responsive to the printing procedure of this invention since the salt will make it harder for the leather to receive the ink or dye. But using leathers with more than 5% mineral salts is feasible.


Leather's finish:
The leather can have a coating on its surface, and the printing will happen on the surface with the coating. The paint on the surface could be made from water. Taking off the backing layer of the inkjet transfer sheet and the leftover film is a vital step in making the surface of the leather piece feel and look like it did before. As was said above, the surfactant utilized for this removal step can easily remove water-based paints.


Conditions:
The type and properties of the printed leather piece, such as its thickness, determine how long the heating step lasts and at what temperature the heat transfer happens. For instance, the warming action might last for fifteen seconds at a temperature of one hundred eighty degrees Celsius; however, this can differ depending on the component or strip of leather being worked on, as well as in terms of time and temperature. As mentioned above, pressing the transfer paper onto the part or strip of leather can happen simultaneously with the heating step. For example, a platen can push the transfer paper, pressing against the piece's surface or strip of leather.


Techniques for printing on leather:
To print on leather, you need to make a digital image that is either one color or many colors, print the image on inkjet transfer paper, press the image onto a piece of leather, and then peel off the backing layer of the transfer paper.
So, a method for printing on leather includes:
Making a monochromatic or multichromatic image.


Putting the picture on a sheet of paper that transfers with a backing layer and printing it with a few inks or dyes.


To copy the photo, press the transfer paper onto an object or strip of tanned leather.


Removing the transfer paper's backing layer.



Different Method:
One such way is to use a swiping motion, where pressure is put on a blade that goes through the backing layer and makes the leather move slowly but evenly over the region.
Another way to exert pressure is via a roller system that moves slowly, preventing air or water pockets from forming.
Several methods, such as a heat press, digital printing, etc., are used to put designs on leather. We use a lot of different colors to make the product seem good. The colors are good and won't change over time. They are sturdy and durable, lasting a long time.


How to print on leather using a screen? (Step-by-Step Guide)
For a better design, there are numerous measures to take when screen printing on leather. Some are about getting ready for printing, while others are about ensuring the process goes smoothly. Let's talk about them in more depth.


Step 1: Get the design ready 
It is vital to make the design opposite to how the stencil will be made. If you desire more than one design, you can make your stencil and order it online. With the help of a circuit maker, it's easy to cut and trim to form the shape you want.


Step 2: Get the screens ready
If you know how to screen print, the second critical step is to prepare the screens. Buying one already made at the store would be easier for people who have never made a screen. They don't cost much and can save you time and work.
Knowing how the mesh count affects the sizes of wooden and aluminum frames is crucial.


Step 3: Make sure the screens are clean
Trying to get rid of dust or debris can damage the print. To clean the screen, use a cleaner and water. Rinse the screen with a clean cloth that covers the front, back, and edges.


Step 4: Create a stencil
After getting the screen ready, the next long process is to put a stencil on it. Just remember three steps:
Set the emulsion on the screen.
Let it dry.
Wash off any extra emulsion to fix the stencil on the net.
The emulsion is a substance that reacts to light and is spread over screens to make stencils. Mix enough emulsion, following the instructions from the manufacturer. Take a scoop coater and spread a thin emulsion layer on the screen to apply the emulsion.
No part of the surface should be without emulsion, no matter how thick it is.
Wait up to an hour or more, depending on the temperature of the site, for the emulsion to dry completely. 
Now, you must put the screen in the light to solidify the emulsion you don't want. Rinse it with water to remove any extra emulsion, which will clear the stencil. Let the screen dry out before you print on it.
Clean the leather:
To get rid of dirt and ink, the surface of the leather which is going to be printed needs to have been cleaned and rinsed. The leather should be dry all the way through.


Step 6: Get the ink ready
Mix the chosen ink according to what the maker says to do. Ensure you have enough ink to last the whole time you print. Ensure the ink gets enough light and air to keep the ink from getting too thick.


Step 7: Begin to print
Put clean, dry leather on a printing press and make sure the screen is in the right place on the leather. Use a squeegee to get the ink through the pattern and onto the leather. Let the ink dry first. The process is done at this point. Clean all of the tools and materials.


Finishing:
So that the process steps are kept from air pockets or moisture, the platen is placed so that there is almost no air or water trapped between the platen and the paper's backing layer.


Getting rid of Paper:
When the backing layer of the transfer paper is taken off, it usually leaves behind a water-based film that can be cleaned with an appropriate surfactant. The surfactant tends to make the movie wet again, which makes it easy to wipe off. It has been found that heating the surfactant a little bit makes removing the film easier, making it go away faster.


Advantages:
The inks or dyes are fixed into the leather by heating the piece or strip with the image. However, remember that heating may be required only on rare occasions. The phase of heating can be done at the same time as the step of pressing. The image can be easily made and saved on a computer. The transfer paper could be commercially available inkjet transfer paper. 


What's Good About Screen Printing?
Considering screen printing technology, it's a good idea to consider its many benefits. Some of these advantages are:


Versatility:
One of the best things about screen printing is that it can be used in many ways. It can be used on any fabric, plastic, wood, glass, or metal. Plus, you can utilise more than one color. You can make practically any design you want when you use screen printing. 


Durability:
Compared to other ways of printing, screen printing may use a lot of ink, which makes for a strong design. Also, special coatings and additives can make the ink resistant to UV radiation, scratches, water, and chemicals. This means that screen-printed objects can be used outside and in hostile situations without fading.


Variation in ink colors:
Screen printing makes colors that are brighter and more vivid than those made by other methods. Different layers are used for patterns with more than one color to keep each hue's brilliance.


Cost-effective:
Screen printing is a technology that saves money over time. Once everything is set up, printing many things is quite easy and quick. So, the unit cost goes down as you print more.


Exceptional speed and efficiency:
When a screen is made well, screen printing represents one of the best and most efficient ways to print. This is the best option if you need multiple copies of the same design.


Straightforward process:
Whether done by machine or hand, screen printing is a simple operation. Also, it's easy and cheap to replace the tools needed.

Leather Screen Printing compared. Other Materials
Printing with a screen on leather takes a particular level of skill, and you must be able to handle the whole process with the right tools. Leather is a natural and porous material; thus, dirt and sand need to be washed off before printing.


You can apply a primer to make the ink stick to the leather.
Second, screen printing on leather is done with ink made in a way the producer describes. These inks are water- or solvent-based, so they can generate prints on leather that endure a long time.


Does leather have to be neutralized before screen printing?
Neutralization is bringing the leather's PH level to a neutral level, around 7. It is required because some leathers have high PH levels that stop the ink from being absorbed, making the print look bad.
But some inks are made to work even on leather's high PH level, so you don't have to neutralize the leather in those cases.
To make things even, you can use a brush or a spray bottle to spray on a PH neutralizer solution.


Common mistakes when printing on leather with a screen?
Some blunders can make it harder to get a good print job.
First, clean the leather and make sure the surface is smooth enough to print on. If you omit this step, the ink will be absorbed properly, making the print look uneven.
Realizing the perfect ink's importance helps you keep going in the right direction. If someone picks the wrong ink without reading the manufacturer's instructions, the print will be fuzzy, uneven, and made up of many layers.
The third key is that some staff push too hard on the squeegee. The ink leaks out or becomes spread unevenly. A squeegee that is too weak or too dull can't print designs on the leather.


Does it matter how good the leather is when screen printing on it?
Yes, keeping quality high is a must to keep your consumers happy. Aim for good prints if you want your clients to be delighted. You can only get these images when screen printing on leather using high-quality, real leather.
Good leather is thick and silky. Always look for full-grain leather that still needs to be polished. It will help you stay strong and last a long time.
No matter how good the design you print on the leather, it will appear horrible if there are holes and spots. 
Talk to an expert to get good leather. They can help you get better leather for your job. Find a source you can trust and ask for samples before you buy.


Which is better for printing on leather: screen printing or digital printing?
Screen printing on leather is an old process of printing on leather that makes prints that look good and endure a long time. Running a proper setup takes a lot of time, and you need many people to execute it.  
Digital printing, on the other hand, is a newer, faster, and better approach to printing on leather. Screen printing is better in terms of quality and endurance. So screen printing is the finest option for leather.


Advice and tricks:
Before working on a bigger scale, you should practise scrap leather.
Don't print or pour too much ink to avoid smearing.
To push the ink into porous leather, it helps to use a strong squeegee.
It would help if you used a heat press to dry the ink properly.


Examples of how to print on leather 


Moda Operandi | Etro Leather Jacket with Floral Print:
Start your car and hit the road in this black leather jacket from Moda Operandi. It has a distinctive flower design that stands out against its tough look. The market for direct-to-garment printing is worth more than $2.5 billion. Most of it is straight to textiles, but digital printing of leather clothing is growing as more and more people want unique or customised items.


The Havana Collection by Morgan Furniture:
The classic chair from Morgan Furniture's Havana Collection is the result of the work of three very skilled artisans. Andrew Muirhead & Son, one of the best leather companies in the UK, started incorporating digital printing in their work. Then, they started working with Michael Angove, a surface designer, to make flower patterns for printing on fine leather.


Conclusion