Saddle Button Leather Bound Notebook
Saddle Button Leather Bound Notebook
This saddle brown leather-bound notebook with button closure is strong, easy to use, and great for travel. A good friend takes this notebook to meetings throughout the Americas, and always comes back telling us of the wonderful responses people have to his book. As we've seen, these books get better with use and age.
This leather bound book is traditionally long stitch finished; a single thread holds the cover and the eight signatures together. Each piece is carefully hand-cut and is a unique one-off item, no 2 will be exactly the same in this world.
As leather is a natural material, please be aware that there may be natural marks and scars. These are not faults but a beautiful part of this natural material. 
Saddle Leather-bound Notebook Specs:
A6 14x10 cm
A5 21X14 cm
B5 25X17.6 cm
Available Paper: Lined White / Blank White 
A notebook contains 120 pieces of paper
LeatherNeo's Refillable Leather Notebooks Features
100% handmade leather journal, one-piece construction.

Paper: 100g acid-free paper.

Crafted with high-quality crazy horse leather , this all-purpose journal, planner, diary, and sketchbook is made for writing, drawing, sketching.
Stitched with heavy duty thread to ensure the utmost strength and durability.
Leather Details and Care
Our leather supplier creates all their stylish leather material using rugged and raw cowhide leather that is filled with premium quality control. It is a unique and captivating natural leather in its rough state. Leather marks can form a subtly patterned testimony of a healthy cow and are a mainstay of genuine top grain leather.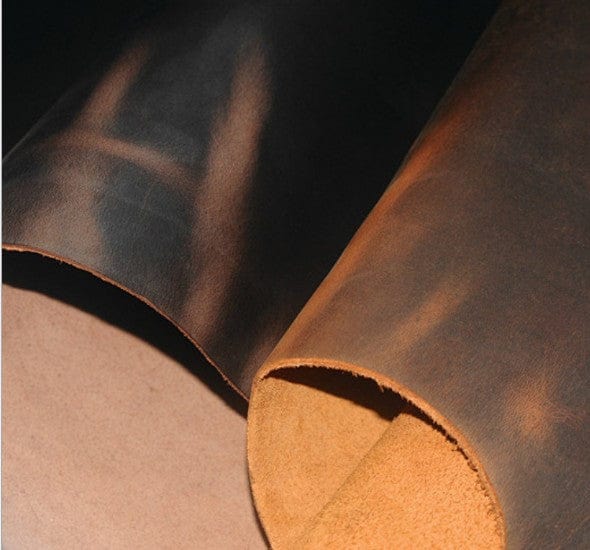 We do not recommend leather chemicals as they will harm the leather as time going on, you can use some leather oil if really needed. Don't be afraid of a scuff or small scratches. Just rub the oils from your skin shape the patina's look over time. 
Color Variance
Some color variations between hides are common and are a natural result of the tanning process. And different leather batches may have some slight differences. This makes each piece unique while still preserving the tone and hue of your chosen color.
About Personalization
LeatherNeo is a great leather goods store with unique designs. We supply leather goods that are beautifully crafted and personalized to your needs. We do provide customized products that are designed according to your requirement and taste. We always try to serve them with the best quality service. If any product is not stock, we will refund the complete amount.
1 Default emboss in Gabriola or Times New Roman font.
2 Default fonts size: we will choose the best looking size according to the item size.
About Shipping
We always try to ship orders within two to four business working days. And if we have much orders to deliver then the order might get delayed by few days. We hope that our customers understand our terms and continue to purchase.
1 We usually ship your orders about 2-5 days later on average
2 According to our experience, the shipper will take 8-18 days to worldwide for normal shipping
We found other products you might like!