Womens Leather Tote Handbags
Women's Leather Tote Handbag
Are you trying to get a perfect women's leather tote bag? Have you tried a leather tote handbag? Made from 100% genuine waxed leather., the bag is handcrafted to last. They are sewn with heavy industrial thread that will last a lifetime. We take pride in each and every bag. 
This sturdy tote bag is for the tough yet care-free lifestyle. Just put your daily essentials in and go on your adventures. Perfect for books, iPads, MacBooks, groceries, etc... This leather handbag is designed for both elegance and functionality. Our exceptionally high-quality leather tote bags are very durable and long-lasting. We are the largest supplier of cost-effective women's leather tote bags that is always up to date and match the ongoing fashion trends. 
Features of the Women's Leather Tote Bag
100% handcrafted at LeatherNeo studio.

Waxed canvas fabric repels water and dirt
Each of our products is uniquely designed and handcrafted. At LeatherNeo, uniqueness and quality are highly valued.
Distressed oiled or waxed leather, will be aged beautifully over time.

Multi-pockets inside for other accessories like small books, wallets, phone...
About the Dimensions and Space Info of the Leather Handbags
Length x Height x Thickness
37 x 30 x 12 cm
Weight: About 1 KG
This bag can hold notebooks, clothes, books, folding umbrellas, wallets, and mobile phones, etc at the same time.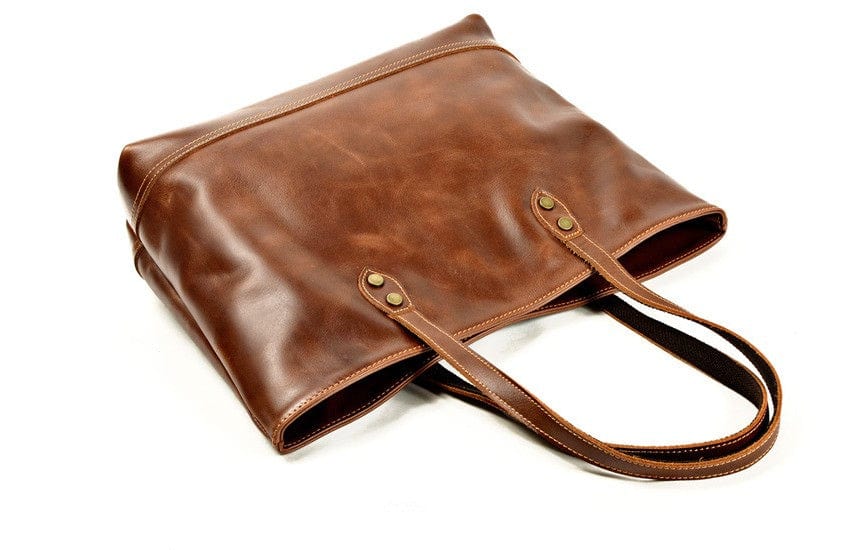 Small Scratches
When LeatherNeo handcraft our leather tote handbag, we do our best to avoid scratches on leather. Some rustic-looking leather definitely leaves a small mark, but the marks are not ugly. Pattern placement and embellishments may vary. Please be advised that colors may appear differently on your computer.
About Personalization
LeatherNeo is a great leather goods store with unique designs. We supply leather goods that are beautifully crafted and personalized to your needs. We do provide customized products that are designed according to your requirement and taste. We always try to serve them with the best quality service. If any product is not stock, we will refund the complete amount.
1 Default emboss in Gabriola or Times New Roman font.
2 Default fonts size: we will choose the best looking size according to the item size.
About Shipping
We always try to ship orders within two to four business working days. And if we have much orders to deliver then the order might get delayed by few days. We hope that our customers understand our terms and continue to purchase.
1 We usually ship your orders about 2-5 days later on average
2 According to our experience, the shipper will take 8-18 days to worldwide for normal shipping
We found other products you might like!