The Best Versatile Canvas Messenger and Crossbody Bags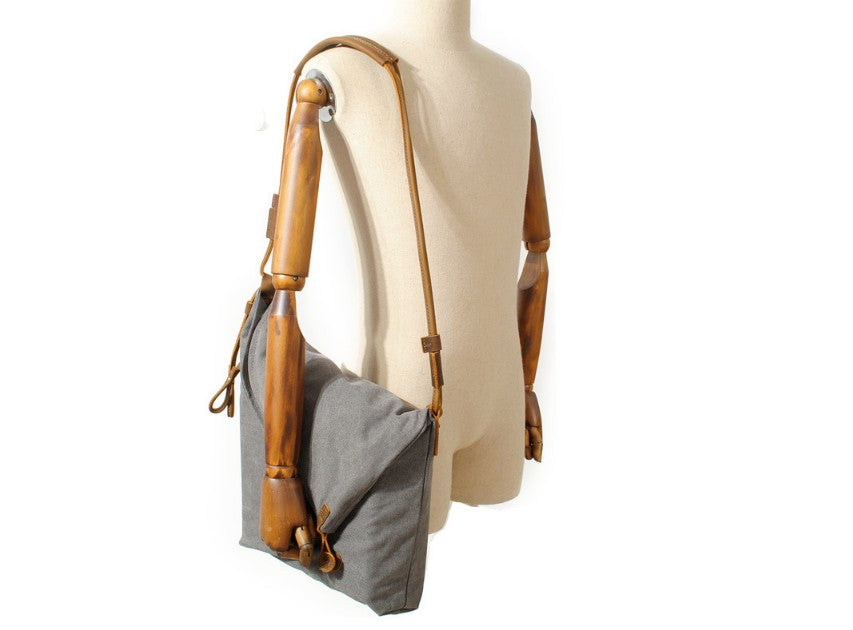 The Best Versatile Canvas Messenger and Crossbody Bags
Having a canvas messenger bag with you when you're out and about is a great option. Lightweight, small and attractive; easy to maintain and functional.


What is a Canvas Messenger Bag?
A canvas messenger bag is a great alternative to a classic canvas shoulder bag for a variety of reasons, including travel, school, work, and even everyday use. To begin with, the appearance is a deterrent to would-be robbers and pickpockets. Messenger bags, as opposed to backpacks, are worn across the chest rather than at the back of the neck. Because they're so light, they can carry all of your belongings without weighing them down. It also frees up your hands to hold a youngster, a coffee or an umbrella in addition to the items already listed.
As a bonus, they're adaptable. Using a crossbody bag, you may go from carrying a business or vacation bag to carrying a bag for everyday use.


List of the Best Canvas Messenger and Crossbody Bags
CANVAS LEATHER BRIEFCASE FOR MEN MESSENGER
What's hot right now in the world of fashion? Have you heard about the hottest new handbags? Those who haven't heard about LeatherNeo's waxed big canvas messenger bags are truly behind the times. A leather Neo's waxed big briefcase bag has a traditional and simple appearance. It's made from leather. These beautiful bags were crafted by hand by our skilled artisans to fit your exact specifications. Many consumers are raving about the canvas messenger bags. You won't be dissatisfied with any of these products 
Your worn-out purses and worn-out backpacks may be driving you crazy. Well, if you said yes, then we've got a special treat to share with you. The unisex organic messenger bag is heavy-duty, waterproof, and distinctive.
WAXED CANVAS MESSENGER BAG LEATHER SHOULDER BRIEFCASE
For everyday use, our waxed canvas messenger bags for men are a terrific choice to consider. Quality materials and craftsmanship have been used to create the waxed canvas bag. The messenger's sturdy canvas and reinforced straps and bottom line make it ideal as a beach or travel bag for carrying big loads. There are no exposed seams. When you're shopping in the market, you'll be in a better mood thanks to our fashionable shopping messenger.
This is the perfect messenger bag for everyday use thanks to its clean and attractive design! The strap is adjustable and may be removed if necessary. The ability to withstand water without losing its aesthetic appeal or functionality is a major selling point.
MENS VINTAGE CANVAS CROSSBODY MESSENGER BAG SHOULDER
LeatherNeo unisex vintage canvas crossbody messenger bags are a fantastic choice for everyday use. Our waxed canvas messenger bag is built to last because of the attention to detail. As a beach bag or travel bag, the messenger bag's sturdy canvas makes it long-lasting, and the strap and bottom line are strengthened to accommodate large loads.
Carry them in your hand, over your arm, or over your shoulder with our men's vintage canvas messenger bags. As a result, we utilize only the best buffalo leather and cotton canvas. A robust and durable piece of equipment. Canvas bags age nicely because of its faded rustic character, making each cover unique in appearance and feel. Your worn-out purses and worn-out backpacks may be driving you crazy.
If you said yes, we've got a special treat for you today that you'll want to check out. This is the perfect messenger bag for everyday use thanks to its clean and attractive design! The ability to withstand water without losing its aesthetic appeal or functionality is a major selling point. It has been built to withstand the rigors of daily use, day in and day out. Strong, useful, and pleasing to the eye thanks to its understated elegance. Any recipient will be delighted to get the laptop canvas messenger bags as a gift, whether it's for an anniversary, graduation, or any other occasion.
CANVAS LAPTOP MESSENGER BAG SHOULDER HANDBAG
Canvas messenger bags for women are an excellent choice for everyday use. Our waxed canvas bag is built to withstand the test of time because of the attention to detail that goes into its construction. Because the strap and bottom line are strengthened to accommodate big loads, the messenger's waxed canvas makes it indestructible. As a beach bag or travel bag, it's the ideal choice for you. There are no exposed seams. Shopping with these chic shopping messengers makes you more confident and more efficient.
CULTURE STYLE CANVAS MESSENGER BAG LEATHER SHOULDER HANDBAG
This stylish unisex culture style canvas messenger bag is something that is catching a lot of eyes. This unique pattern is not just exquisitely beautiful but also comes with a lot of pockets that makes it highly useful to carry your stuff around. This 100% handcrafted vintage messenger bag is made using waxed canvas and cotton fabric which makes it a comfortable bag to carry around. In addition to quality bag material, this very messenger bag comes with a sturdy brass zipper & double stitching.
Another very good and stylish canvas messenger bag that has caught the heart of many people is this Leather Neo's small canvas messenger bag. The vintage look of this bag makes it a great option for one to carry it around for daily use. On top of it, the solid and sturdy nature of this bag also makes it a perfect choice. So, if you are looking for genuine leather and canvas messenger bag, this is something great for you. Another key factor to note here is that this messenger bag also has multiple pocket that makes it easier for you to carry stuff around in an organised manner.
These are some of the perfect canvas messenger bags that are designed for perfection and comfort both in style.
Crossbody Canvas Bag Care Instructions & Tips For Everyone Who Is Considering To Buy One


We all know how popular crossbody messenger bags are. They are not only fashionable and adaptable, but they are also light and environmentally sustainable. In addition, they may be used to store virtually anything.
To get the most out of them, proper care and cleaning must be taken of them. In the end, it's still your hard-earned money, no matter how much you pay. You'll also get a lot more use out of it if you take good care of it.
There is a good chance your canvas bag will be battered regardless of how you carry it. To be honest, that was the anticipation most of them had while they were designing and building them. Canvas bags may be cleaned and cared for in a simple, step-by-step approach.
How to Safely Wash Your Canvas Shoulder Bag

The first step is to find out what else you have in your luggage. Long-term submersion in water isn't recommended for items made of leather or suede.
Also, pay attention to the pattern or print on your canvas crossbody bag, which may be affected by the temperature of the water. Keep an eye out for color bleeding and transfer if your bag is coloured. Always wash in cold water to be on the safe side.


Always follow the manufacturer's wash and care instructions found on the care label - Before you begin washing, make sure to check for any stains. Stains should be removed before you begin. Wipe the stain carefully with a moist cloth and a little amount of mild detergent. Avoid scrubbing. A more powerful detergent may be necessary if the discoloration is particularly tenacious. Only use soaps that are specifically formulated for cleaning canvas.


Washing by Hand - A wet towel may be used to remove detergent from your canvas shoulder bag after you've washed it by hand. If it's safe, you may also put the bag in the sink and run some cold water through it. Make careful to thoroughly rinse all detergent or cleaning agents from the surface before drying. In particular, it wears down the fabric's resilience when detergent is left in it. Gently squeeze out any remaining water and ready the bag for drying after you are sure the soap is gone.


Hardware - Wipe out any metal parts of your luggage that need cleaning using a high-quality brass cleaner or metal polish. Small hardware may be cleaned and dried with the use of a swab of cotton and a clean cloth. Maintain a safe distance between the cleaner and the fabric.


You may wash your canvas crossbody bag in the washing machine - Your washing machine may be an option if your canvas crossbody bag's design and materials allow it. Follow the manufacturer's instructions when it comes to adjusting the thermostat. Be cautious to verify your labels and the website before you buy. Cold temperatures and moderate washing cycles are preferable for canvas bags that have been painted or have elaborate motifs or decorations. The bag should be washed separately from other canvas items. Make sure to read the labels on basic, muted coloured canvas crossbody purses to determine if they can withstand temperatures. Using a moderate wash cycle is also advised. Once the cycle is complete, immediately remove the bag from the dryer to prevent it from becoming distorted and moldy.


The Art of Air-Drying Your Canvas Briefcase - Your canvas crossbody bag will last longer if it is allowed to dry properly. Even if you hand-washed, cleaned, or machine-washed the bag, you should always air dry it. Avoid drying the bag in the dryer unless the manufacturer specifically instructs you to do so. The contour of the bag might also be distorted by a dryer. In the event that your canvas bag emerges from the machine looking less than perfect, don't panic. Regardless of the water's temperature, washing the canvas might cause it to shrink. Doing so when it's moist will help prevent this from becoming permanent. When it dries, it will remain in its normal form.
Your Crossbody Canvas Bags Storage 

Cleaning your canvas crossbody purse at least twice a year is recommended. This will extend the bag's lifespan and keep it looking fresh. The best way to store your bag once it has dried is upright or flat on a shelf. The bag will retain its form as a result of this procedure. Tissue paper might assist the bag maintain its form if you want to go the extra mile. You should avoid utilizing newspapers or magazines since they might leave behind ink on the bag's outside.
FAQs about Crossbody Bags


Are messenger bags out of style? 
Because canvas messenger bags are so adaptable and fashionable, they are still popular.. Because of its long history, you can be certain that you're getting a high-quality bag that can be used on a daily basis by a student, professional, or just someone on the go.
What is a messenger bag called? 
There are several different types of handbags, including messenger bags (also known as courier bags) and tote bags (sometimes called duffel bags) (natural or synthetic). Over one shoulder, the bag rests on the lower back thanks to a strap that stretches over the chest. In addition to being a common sight on the streets, canvas messenger bags have become a fashion staple.
Which one is better, the crossbody or the satchel?
You can hold a satchel in your hands or loop it under your arm, depending on your preference. Like a tote, a shoulder bag is worn across the body. A crossbody bag is one that is worn across the body diagonally. No plastic bag for your canvas bag. Plastic may sweat and create moisture as temps rise, which will feed mold and mildew. The bag should be packed in an old pillowcase or a cotton laundry bag in order to keep dust from building up. Make sure there is enough room for your luggage to breathe before putting it away.
So, here you go. We hope that you found everything that you were looking for here in this piece of article. At Leather Neo, we believe in creating healthy and fine leather products, including canvas crossbody bags.
Shop our collection of:
Men's Canvas Messenger Bags | Women's Canvas Messenger Bags | Men's Canvas Crossbody Bags | Women's Canvas Crossbody Bags | Cute Messenger Bags | Cute Crossbody Bags
Related Posts: