Brown Leather Laptop Backpack Purse
Brown Leather Laptop Backpack Purse
The brown leather laptop backpack purse is for your everyday use. If you work and live on the run, this leather backpack for men and women will be your perfect helper. There is no strong pressure on the shoulders even when the bag is fully loaded. With this brown backpack leather purse, you can easily accommodates books, laptops, cameras, notebooks, portfolios, and office supplies. The leather laptop backpack purse is made of genuine leather, it's spacious and has a conservative, stylish color. You can take this stylish leather backpack with you for walks around the city, to work or on a trip – this large leather backpack purse suits any environment.
Excellent craftsmanship, amazing quality, and the perfect size make this leather laptop backpack purse your best choice ever. These women's leather backpack purses are completely handmade with great care. Every knick, wrinkle, and scratch are unique to the leather and adds to its character. You will absolutely love this backpack whether you use it!
You can choose one leather backpack purse from the collection that suits your personality. Our brown leather backpacks women are highly popular among college boys, working men, and women who love to be trendy. The vintage backpack is designed to be suitable for a traveler and is both a practical and stylish wardrobe accessory. 
Features of Leather Laptop Backpack
100% handcrafted at LeatherNeo studio.

Genuine leather with beautiful and durable stitching, giving it a sleek look and a slim body.
Each of our products is uniquely designed and handcrafted. At LeatherNeo, uniqueness and quality are highly valued.
Distressed oiled or waxed leather, will be aged beautifully over time.

Multi-pockets inside for other accessories like small books, wallets, phones, etc...
About the Dimensions and Space Info of the Leather Backpack for Laptop
Length x Height x ThickNess
28 x 41 x 9.5 cm
Weight: About 1.59 KG
This bag can hold a 15-inch Macbook, clothes, books, folding umbrella, wallet and mobile phone, etc at the same time.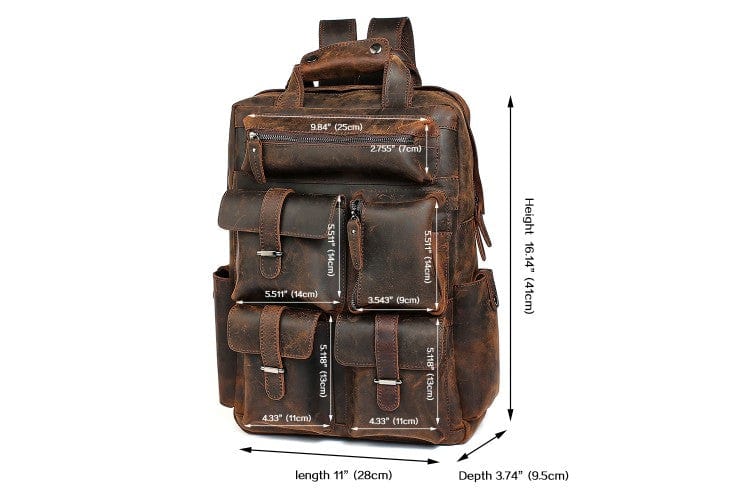 Leather Care and Corporate Orders

We source our leather from a reputed US-based tannery that focuses on sustainable leather production. As a result, our products are of top grade and highly suitable for corporate and client gifts. A useful and unique leather gift featuring the company's logo or a special word will extend your brand for years. We have cooperated with several companies and clubs. Moreover, we use only high-quality leather material and threads. Leather is the greatest material to keep your story!
Natural Leather Mark
This leather laptop bag is made of genuine leather and during the handcrafting process, there may exist some small scratches. There can be small natural irregularities on the products like scars and stitches. So, they can show some texture imperfections which are present on any piece of leather. Do not worry about it, just use it, it will become more beautiful as time passes. They emphasize the nature of the leather and are proof of quality, not a quality defect.
About Personalization
LeatherNeo is a great leather goods store with unique designs. We supply leather goods that are beautifully crafted and personalized to your needs. We do provide customized products that are designed according to your requirement and taste. We always try to serve them with the best quality service. If any product is not stock, we will refund the complete amount.
1 Default emboss in Gabriola or Times New Roman font.
2 Default fonts size: we will choose the best looking size according to the item size.
About Shipping
We always try to ship orders within two to four business working days. And if we have much orders to deliver then the order might get delayed by few days. We hope that our customers understand our terms and continue to purchase.
1 We usually ship your orders about 2-5 days later on average
2 According to our experience, the shipper will take 8-18 days to worldwide for normal shipping
We found other products you might like!