Green Canvas Work Tote Handbags Womens
About This Green Canvas Work Tote Handbags Women's
Are you trying to get a perfect canvas work tote handbag? Have you tried a canvas tote handbag? Are you even aware of the benefits a tote handbag provides?
If you really want to know amazing facts about a canvas work tote handbag let us take you on the journey where you will see why you must have a tote handbag. And it will surely make you buy one for yourself. our products capture the attention of our visitors to our online store. Our collection is inspired by cultural visuals with powerful contemporary elements.
Why us?
We have a skilled professional team that manages all the delivery of our every order.

The strong designing team that always lookout to bring something new to our canvas tote handbags.

We provide fast or express delivery service.

A quality that you can find nowhere.

Prices that will never make you lose more than what is deserved
We are the largest supplier of cost-effective canvas tote handbags that are always up to date and match the ongoing fashion trends. Our bags are handmade, eye-catching and always make you look best in the crowd. Every product is made with the cotton fabric.
If you don't want to miss anything, stay tuned to our store for the latest trendy arrivals, exclusive offers, and much more. We promise we'll bring newness to our canvas work tote handbags.
Features of the Canvas Tote
100% handcrafted in LeatherNeo studio.

Waxed canvas fabric repels water and dirt
Each of our products is uniquely designed and handcrafted. At LeatherNeo, uniqueness and quality are highly valued.
Distressed oiled or waxed leather, will be aged beautifully over time.

Multi-pockets inside for other accessories like small books, wallets, phone...
About the Dimensions and Space Info of the Canvas Handbags
Length x Height x Thickness
33 x 35 x 13 cm
Weight: About 0.6 KG
This bag can hold tablets, clothes, books, folding umbrellas, wallets, and mobile phones, etc at the same time.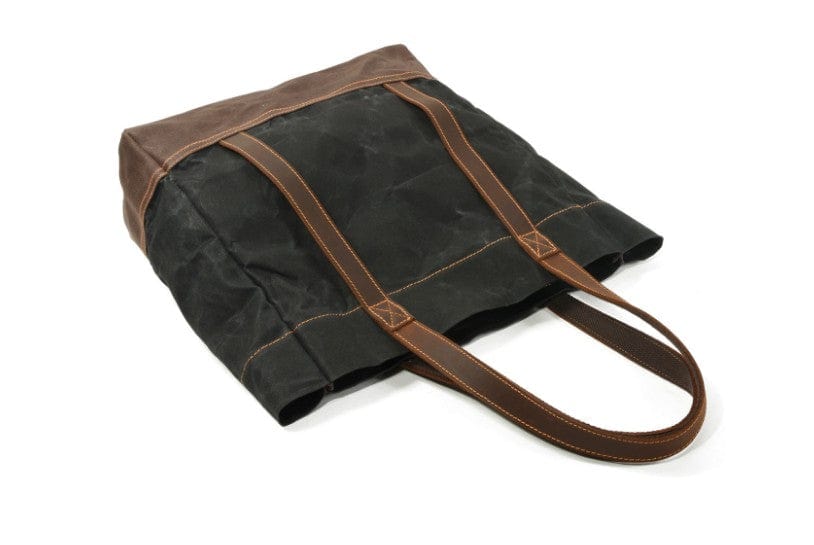 Corporate Orders

We source our leather and 100% cotton waxed canvas from a reputable US-based tannery that focuses on sustainable leather production. A useful and unique leather gift featuring the company's logo or a special word will extend your brand for years. We have cooperated with several companies and clubs. 
Small scratches
When LeatherNeo handcraft our large canvas tote handbag, we do our best to avoid scratches on leather. Some rustic-looking leather definitely leaves a small mark, but the marks are not ugly. Pattern placement and embellishments may vary. Please be advised that colors may appear differently on your computer.
About Personalization
LeatherNeo is a great leather goods store with unique designs. We supply leather goods that are beautifully crafted and personalized to your needs. We do provide customized products that are designed according to your requirement and taste. We always try to serve them with the best quality service. If any product is not stock, we will refund the complete amount.
1 Default emboss in Gabriola or Times New Roman font.
2 Default fonts size: we will choose the best looking size according to the item size.
About Shipping
We always try to ship orders within two to four business working days. And if we have much orders to deliver then the order might get delayed by few days. We hope that our customers understand our terms and continue to purchase.
1 We usually ship your orders about 2-5 days later on average
2 According to our experience, the shipper will take 8-18 days to worldwide for normal shipping
We found other products you might like!