Embossed Leather Rustic Wedding Guest Book
Leather Rustic Brown Wedding Guest Book
Our rustic brown leather guest book has a vintage and rustic flair. Made of soft top-grain leather, this handmade leather guest book features a wrap tie closure and inside  3 kind of pages of your choice.
LeatherNeo is the best place to buy an alternative wedding guest book if you are looking to buy one from an online store. We have leather unique custom guest books that are customized for the wedding, graduation, and babies. Store your family's or wedding memories in a beautifully bounded, fully functional photo rustic guest book album. A custom engraved photo book from our store is not just fully-fledged but fun and pretty too.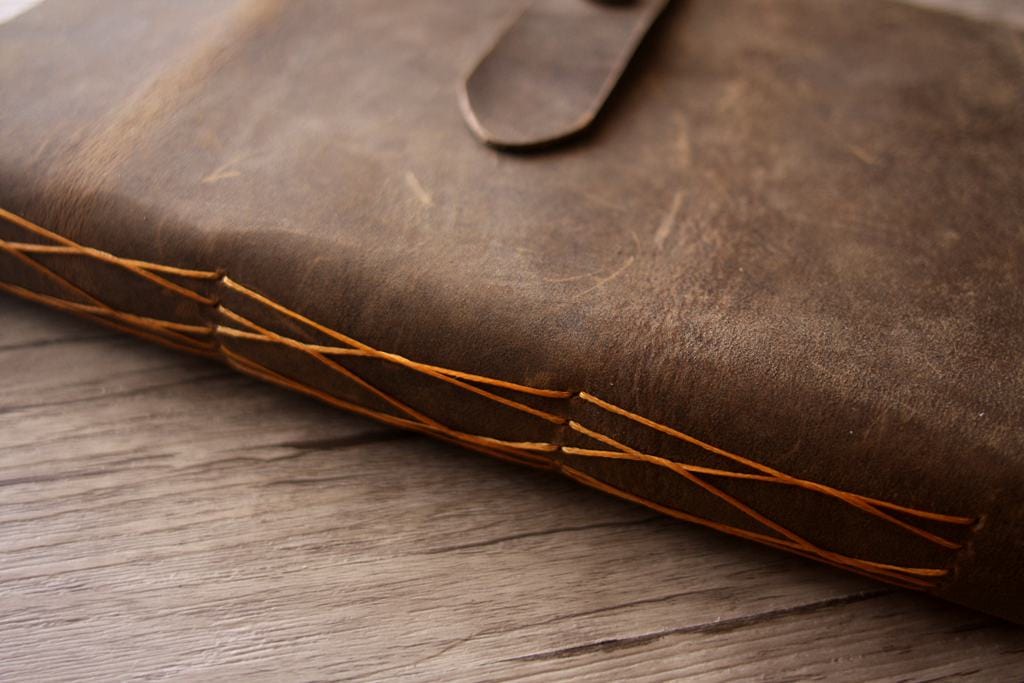 Custom Alternative Rustic Wedding Guest Book Inside Paper size and pattern
6x8 inch
10x8 inch
12.2x8.5 inch
Available Paper: Blank Kraft / Blank White / Black thick 250g/m2 paper (this kind of paper is thick and hard special for photo albums and guestbooks)

A journal contains 32 pieces of paper (count 64 pages)
How to install photos or pictures on the leather wedding guest book?
By glue or corner sticker (for each album we will give about 200 pieces of corner stickers)
Below Are the Features of the Rustic Wedding Guest Book
It can keep your moments safe so that you can celebrate your memories again that you have made from occasions like birthdays, weddings, or anniversaries.

It will perfectly show your photographs in an organizing way.

Glossy finish, sharpness, and color will make your albums trendy.

Multiple sizes are available of the albums as per your picture size
To Personalize the Leather Guest Book

Your initials, logos, name, or some unique words can be burnt embossed into the leather which creates a sharp and very stylish addition. We can engrave whatever you want and can use every fonts that you want.
Can I Have a Custom Order?
Yes, we will do our best to meet your needs, we can change to other leather colors, and will do our best to make your dream come true!
Is Our Leather Photo Guest Book Durable?
Our leather guest book albums are 100% designed and handcrafted by LeatherNeo's professionals so they can last for many years if you keep the leather well and use it in time.
Color Variance
Some color variations between hides are common and are a natural result of the tanning process. And different leather batches may have some slight differences. This makes each piece unique while still preserving the tone and hue of your chosen color.
About Personalization
LeatherNeo is a great leather goods store with unique designs. We supply leather goods that are beautifully crafted and personalized to your needs. We do provide customized products that are designed according to your requirement and taste. We always try to serve them with the best quality service. If any product is not stock, we will refund the complete amount.
1 Default emboss in Gabriola or Times New Roman font.
2 Default fonts size: we will choose the best looking size according to the item size.
About Shipping
We always try to ship orders within two to four business working days. And if we have much orders to deliver then the order might get delayed by few days. We hope that our customers understand our terms and continue to purchase.
1 We usually ship your orders about 2-5 days later on average
2 According to our experience, the shipper will take 8-18 days to worldwide for normal shipping
We found other products you might like!