Designer Leather Tote Bag Shoulder Handbag - Brown or Black
About This Designer Leather Tote Bag Shoulder Handbag 

This brown leather tote bag will look fabulous with any outfit. One of our most compact leather handbags. This bag is cut and stitched by hand. All leather products are only crafted to carry your camera, iPad, notebook, phone, wallet. You can take them easily everywhere. It stays close to the body for maximum support and can be worn across your shoulder or crossbody. 
Waxed designer leather tote bag handbags, with leather straps and canvas ticking lining have been successfully used by LeatherNeo's customers. 
This leather tote is spacious, there is plenty of space inside for your every item.

Eco-friendly bags.

This leather bag features a minimalist design which will add a clean aesthetic to your outfit.

Stylish and trendy tote bags.

Lightweight and convenient to carry.

Very affordable accessory to own.

 A stylish and trendy, must-have item of a fashionista, blogger, and daily outfit.
About the Dimensions and Space Info of the Designer Leather Tote Bag Handbags
Length x Height x Thickness
31.5 x 28 x 13.2 cm
Weight: About 0.62 KG
This bag can hold iPad and tablets, clothes, books, folding umbrellas, wallets, and mobile phones, etc at the same time.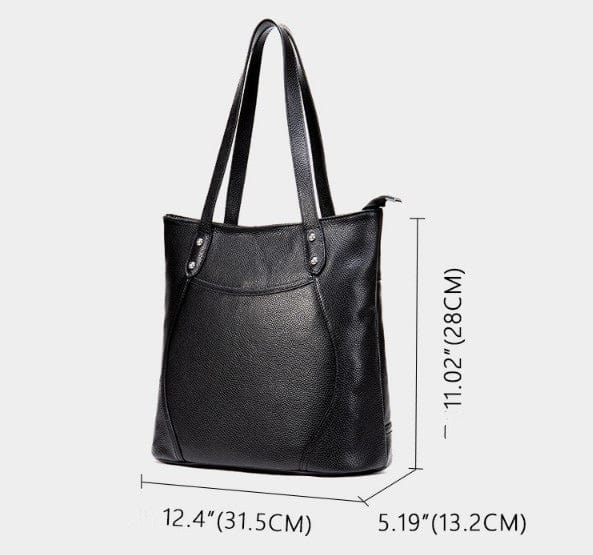 Corporate Orders

We source our leather from a reputable US-based tannery that focuses on sustainable leather production. As a result, our products are top grade and very suitable for corporate and client gifts. A useful and unique leather gift featuring the company's logo or a special word will extend your brand for years. 
Leather Goods Quality

We can assure you that all our products are made from full grain cowhide leather with a warranty of a lifetime. We always want to offer customers according to their needs and spread as much knowledge and gain the same from them.
About Personalization
LeatherNeo is a great leather goods store with unique designs. We supply leather goods that are beautifully crafted and personalized to your needs. We do provide customized products that are designed according to your requirement and taste. We always try to serve them with the best quality service. If any product is not stock, we will refund the complete amount.
1 Default emboss in Gabriola or Times New Roman font.
2 Default fonts size: we will choose the best looking size according to the item size.
About Shipping
We always try to ship orders within two to four business working days. And if we have much orders to deliver then the order might get delayed by few days. We hope that our customers understand our terms and continue to purchase.
1 We usually ship your orders about 2-5 days later on average
2 According to our experience, the shipper will take 8-18 days to worldwide for normal shipping
We found other products you might like!