Canvas Leather Backpacks for School Student
Canvas Backpacks for School Boys and Girls

Looking to find perfectly suitable waxed canvas backpacks for school to be carried by your child or yourself? LeatherNeo have waxed canvas backpack available for students of all ages whether he is a small kid, teen, or grown-up high school. Each of our school canvas backpacks are custom made and unique functional designed. Canvas backpacks are very safe and secure for your child and it will also help in balancing their posture by putting the right amount of load at the right point. This everyday school bag is made from beautiful waxed canvas, sturdy and durable material. It is big enough to hold your pencil boxes, books, and everyday essentials .
Why Buy Canvas Backpacks for School from Us?
Backpacks available for all genders.

Multiple color options for canvas school backpacks are available

We have backpacks for school in multiple sizes.

Durable and comfortable backpacks for carrying.

Spacious enough to carry stuff to be carried to school.

Prevent the posture to get disrupted.
The backpacks are designed in a way that it will protect the shoulder of students because of the padded straps. We made its handles to be comfortable for a long trip with heavy things in it - it has wide padded handles. Easy to use short top handle. These canvas backpacks for school are trendy for teens and comfortable for kids.
About the Dimensions and Space Info of the Canvas Backpack
Length x Height x Thickness
33 x 45 x 15 cm
Weight: About 1.2 KG
This leather and canvas bag can hold 15-inch Macbook, clothes, books, folding umbrellas, wallets, and mobile phones, etc at the same time.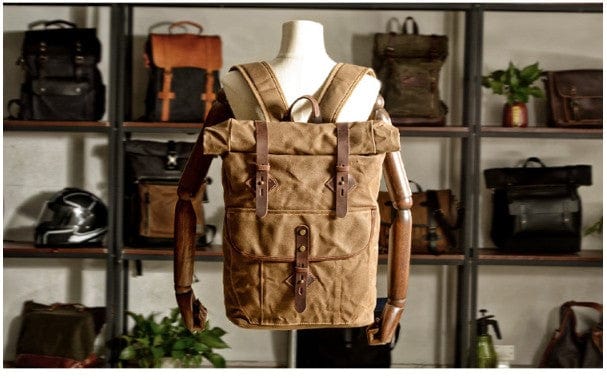 Corporate Orders

We source our leather and 100% cotton waxed canvas from a reputed US-based tannery that focuses on sustainable leather production. As a result, our products are of top grade and very suitable for corporate and client gifts. A useful and unique leather gift featuring the company's logo or a special word will extend your brand for years. We have cooperated with several companies and clubs. Moreover, we use only high-quality leather material and threads. Leather is the greatest material for keeping your story!
Small Scratches
When LeatherNeo creates a canvas backpack, we do our best to avoid scratches on leather. Some rustic-looking leather definitely leaves a small mark, but the marks are not ugly.  Please remember to leave your phone number with your order in case there are any problems with your delivery, this is not essential but your package could be delayed if the couriers need to contact you and they don't have your phone number.
About Personalization
LeatherNeo is a great leather goods store with unique designs. We supply leather goods that are beautifully crafted and personalized to your needs. We do provide customized products that are designed according to your requirement and taste. We always try to serve them with the best quality service. If any product is not stock, we will refund the complete amount.
1 Default emboss in Gabriola or Times New Roman font.
2 Default fonts size: we will choose the best looking size according to the item size.
About Shipping
We always try to ship orders within two to four business working days. And if we have much orders to deliver then the order might get delayed by few days. We hope that our customers understand our terms and continue to purchase.
1 We usually ship your orders about 2-5 days later on average
2 According to our experience, the shipper will take 8-18 days to worldwide for normal shipping
We found other products you might like!