Brown Mens Vintage Leather Messenger Briefcase Bag
Unisex Vintage Leather Messenger Briefcase Bag

A well designed leather messenger briefcase bag adds up more elegance to your daily appearance. It will also give security to your stuff and arrange your essentials. You can use this messenger bag to carry your laptop, documents, notebooks, or other daily items. After years of wear the messenger bag will have a distressed leather look and become quite flexible, yet maintain its protective nature.
Quality –

One of the most important things you need to consider while buying a leather messenger bag is the quality and its material. Our messenger bag is strong and sturdy enough to last for several years. The material that is used in making our bag must be strong enough.

Storage –

 Our messenger bag is spacious enough to keep your accessories like a laptop, charger, documents, mobile phone, and other items. It is in good size that several belongings can fit in it easily.

Comfort Level –

 Our leather bag is quite comfortable while you carry it along during daily work or vacations. The strap of the leather messenger bag is adjustable.

Last but not the least, the color of your leather briefcase bag should won't get faded with time rather it should age beautifully.
We have put the best of our functional brown leather messenger briefcase in our collection that can be used as office bags or weekend travel bags.
About the Dimensions and Space Info of the Black Leather Messenger Bag
Length x Height x Thickness
39 x 29 x 6 cm
Weight: About 0.92 KG
This bag can hold 14-15 inch laptops, clothes, books, folding umbrellas, wallets, and mobile phones, etc at the same time.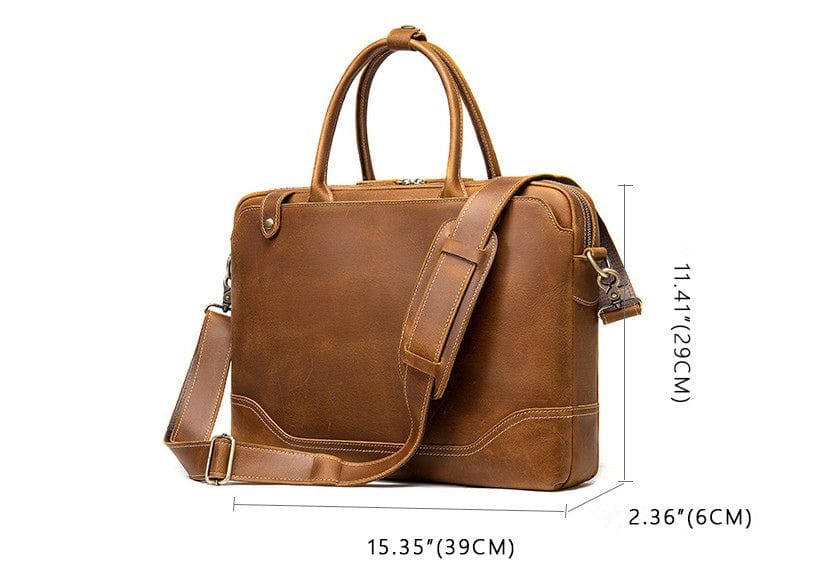 Leather care and corporate orders

Our products are of top grade and very suitable for corporate and client gifts. A useful and unique leather gift featuring the company's logo or a special word will extend your brand for years. We have cooperated with several companies and clubs. Moreover, we use only high-quality leather material and threads. Leather is the greatest material for keeping your story!
The condition of all our products are described to our best ability. Please keep in mind bags are vintage and show wear.
About Personalization
LeatherNeo is a great leather goods store with unique designs. We supply leather goods that are beautifully crafted and personalized to your needs. We do provide customized products that are designed according to your requirement and taste. We always try to serve them with the best quality service. If any product is not stock, we will refund the complete amount.
1 Default emboss in Gabriola or Times New Roman font.
2 Default fonts size: we will choose the best looking size according to the item size.
About Shipping
We always try to ship orders within two to four business working days. And if we have much orders to deliver then the order might get delayed by few days. We hope that our customers understand our terms and continue to purchase.
1 We usually ship your orders about 2-5 days later on average
2 According to our experience, the shipper will take 8-18 days to worldwide for normal shipping
We found other products you might like!